Easy to make local snack.
Boiled peanuts is a favorite local snack that my family enjoys. My father and aunty recalls grandma making this snack to eat with the family. I love opening the soft shell of the peanut and sometimes sucking on the juice that leaks.
Different ways to boil peanuts
Hawaii is of course not the only place to boil peanuts. In the sourthern states of the United States, they boil their peanuts with just salt. The only difference with Hawaii, is that we add in more flavors, influenced by the Chinese such as the star anise and ginger.
Like any other recipe, you are free to experiment with this recipe as your base and tweak the ingredients to suit your own taste. How does your family like to boiled peanuts? Comment below! I love to read different versions of these recipes.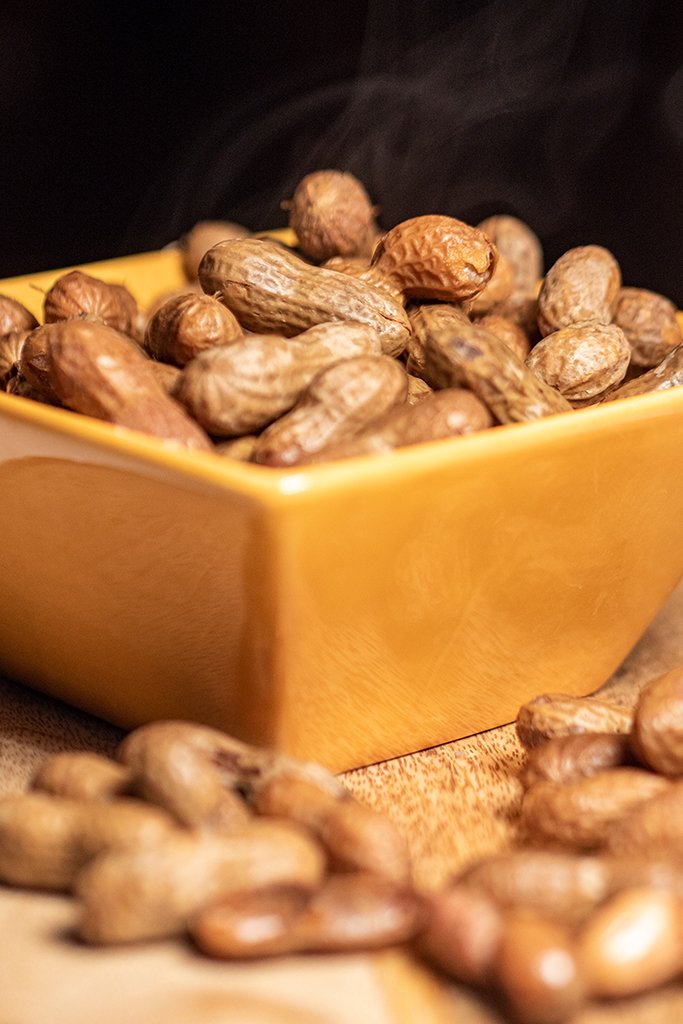 Tips
If you can't find raw peanuts, using toasted or cooked peanuts still works.
Boiled Peanuts don't need to always be eaten hot/warm, eating them cold is perfectly fine!
To store the leftovers, simply add them into a tightly sealed bag
Video Tutorial
Check out this video to help you gain more insight on how to make Boiled Peanuts. Also, subscribe to my YouTube to help support me so I can continue making more of these contents. Mahalo!
Boiled Peanuts
A savory and packed with flavor local snack that is easy to make for the children and guests. A simple soak and boil process to get these tasty peanuts ready to be devoured.
Ingredients
1

lb

raw peanuts

5

star anise

1/3

cup

Hawaiian salt

sea salt

2

slices of ginger

1

tbsp

peppercorns

water
Instructions
Soak the raw peanuts in a large bowl. The peanuts will float to the top. Use a plate and place a weighted object on it to ensure all of the peanuts will be soaked. Soak it overnight.

Drain the soaked peanuts and rinse it.

Add the peanuts to a large pot and fill it up with enough water to cover the peanuts. Add in the flavors, star anise, Hawaiian salt, ginger, and peppercorns. Stir and bring it to a boil then reduce it to a simmer.

Cover and let it simmer for 1-2 hours. Stir every thirty minutes to ensure all of the peanuts are evenly cooked. After it has finished simmering, turn off the heat and let the peanuts soak in the hot water for another 30 minutes to soak in more of the flavors.

Drain the peanuts and serve immediately or as a cold snack. Enjoy these onolicious Boiled Peanuts!
Notes
Store these peanuts in a tightly sealed bag.