Since I don't have the means to dig a hole in my backyard, I can only cook kalua pork with my crock pot.
At any Hawaiian luau, you're bound to come across kalua pork. Traditionally you would cook the pork in an imu, pit oven, which gives it that smoked flavor.
To start off you'll need pork butt, Hawaiian salt, and smoked liquid flavor. That's it! Super simple. Rub the salt all over the pork and place it in the crock pot. Pour the smoked liquid flavor over the pork and cover the crock pot. Select low heat for 8 hours.
Halfway through the cooking process, flip the pork on the other side. Set aside a chopped cabbage head that you will add in 30 minutes before the crock pot finishes cooking the meat. Of course it's optional to add the cabbage, but I like to get in some of my greens somehow.
Take two forks and start shredding the pork! It will naturally fall apart once you start pulling it apart. Tada! You don't need to do anything special to it. Just serve it up on a platter with a side of rice and there is your kalua pork!
Video Tutorial
Check out this video to help you gain more insight on how to make Kalua Pork. Also, subscribe to my YouTube to help support me so I can continue making more of these contents. Mahalo!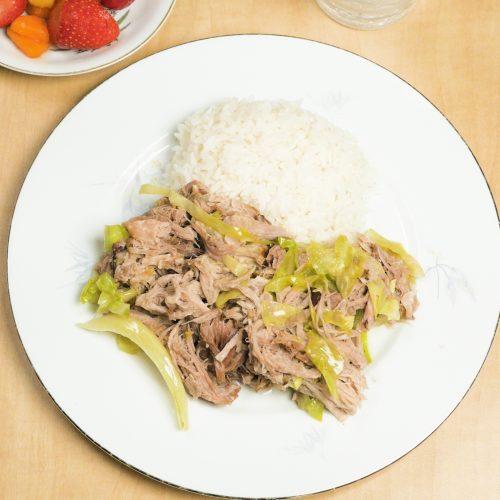 Kalua Pork
At any Hawaiian luau, kalua pork will always be there. Learn how to make kalua pork using a crock pot or slowcooker. This is such a simple recipe that any beginner cook or chef could do it.
Ingredients
6

lb

pork butt

or pork shoulder

1 1/2

tbsp

Hawaiian salt

sea salt works too

1

cabbage head (optional)
Instructions
Rub the salt all over the pork butt.

Add it to the crock pot and pour in the liquid smoke flavoring on top of it.

Select low heat for 8 hours. Half way through flip the pork. Cut up a head of a cabbage and set aside.

30 minutes before the crock pot finishes cooking, add in the cabbage.

Shred the meat with two forks. Take off all the meat around the bound and discard it. Serve and enjoy!