This post may contain affiliate links. Read about our privacy policy.
An island style comfort food to warm your soul.
A family favorite…
On a chilly day my dad would make beef stew for me and my three siblings and was it a warming treat! Just taking a bite into it warms your soul and body. It's a very homey and simple recipe.
Because my dad was a single parent raising four kids, he liked to use this recipe often to help stretch meals, budget friendly, and a great beginner recipe to teach us how to cook it on our own.
Hawaii has their own version of Beef Stew?
Yes, yes, yes! If you grew up on the islands, I'm sure you remember one of the oldies song "Fish and Poi" by Sean Na'auao.
🎵"Squid or chicken lu'au, don't forget the laulau
Beef or trip stew just to name a few, oh yeah"🎵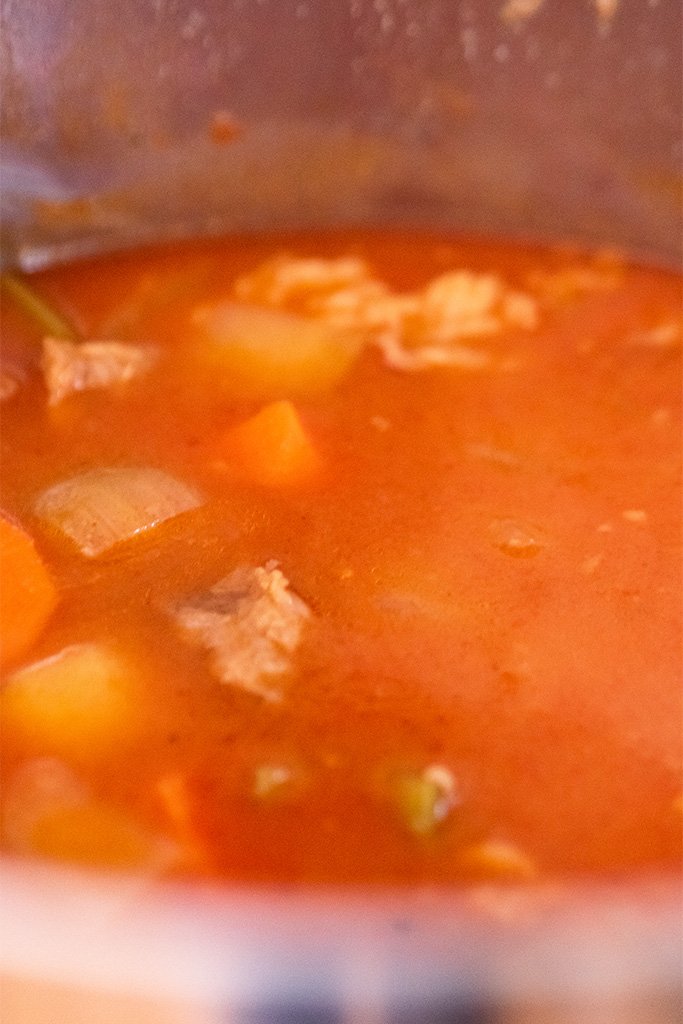 This song perfectly summarizes the many local food we all love to eat. Beef Stew is one of the many comfort foods all islanders love and remember eating in their childhood.
It is a little different compared to the mainland's old classic Beef Stew. Hawaiian Beef Stew adds in tomato sauce and is served with sticky hot white rice. And if you are feeling like you need a little more salt, we like to add in a dash of shoyu (soy sauce).
What are the ingredients in Hawaiian Style Beef Stew?
All classic beef stews call for the humblest of ingredients. Because it's a simple recipe, think of it as your base where you can add in more ingredients to spruce it up and call it your very own.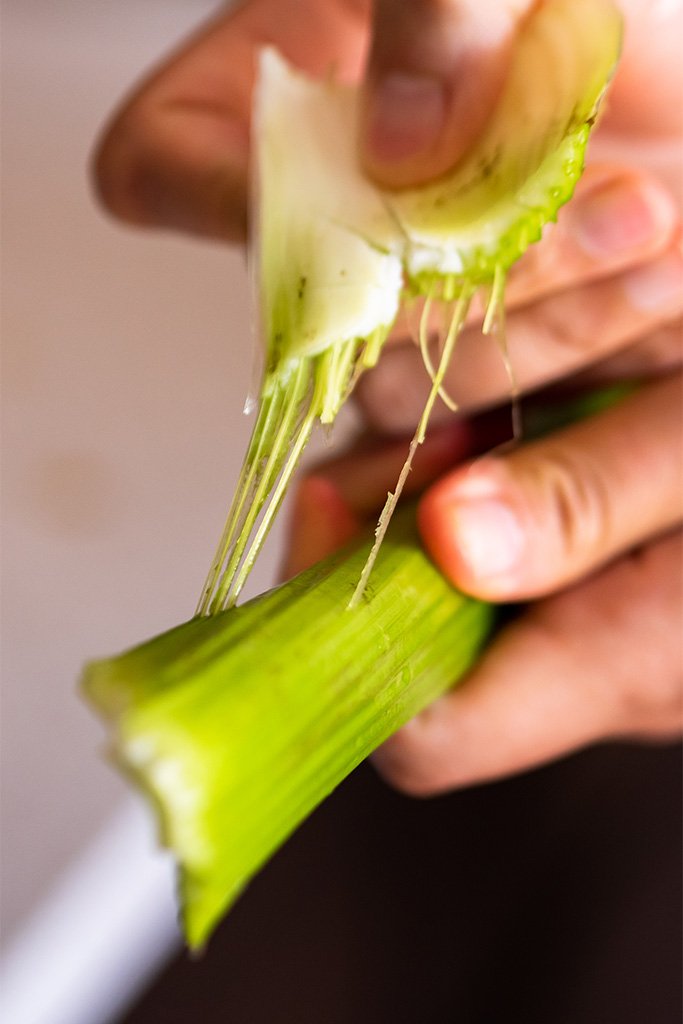 The great part about this recipe, you can use any cheap cut of beef. By cooking the beef for 2 hours, it tenderizes the meat to the point where the meat is practically falling apart!
What you'll need: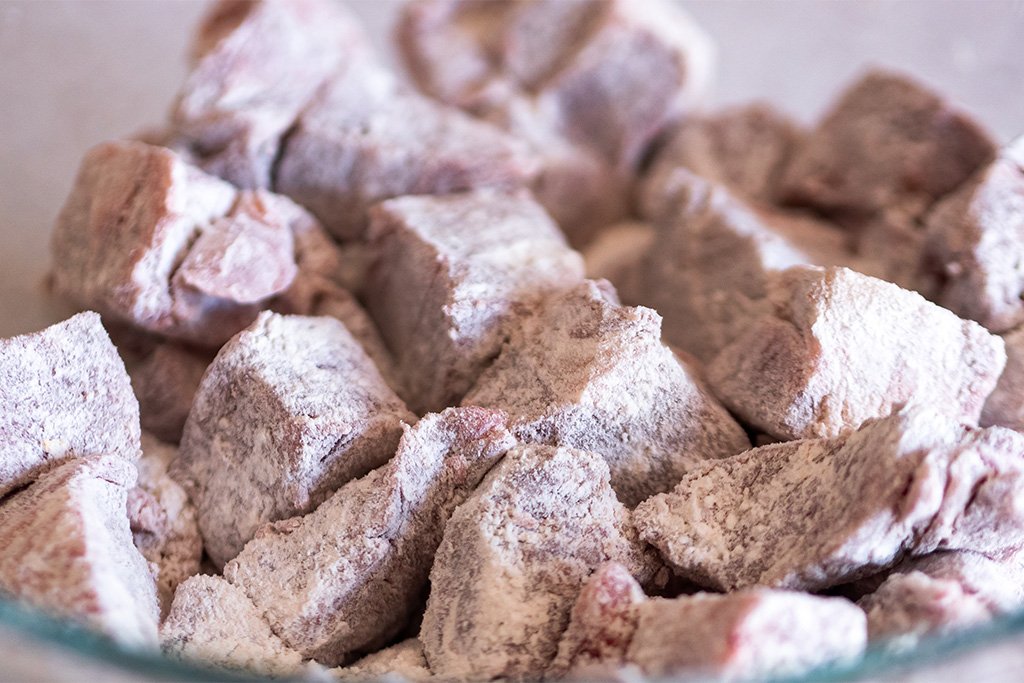 Beef: I love using chuck roast or any inexpensive beef cut. Beef stew is the perfect meal to tenderize those tough cuts.
Veggies: In this recipe we use the classics; celery, onion, carrot, and garlic. If you have picky eaters, they'll for sure gobble up these stewed veggies.
Carbs: Potatoes and rice are your main carbohydrates for this dish. You definitely cannot skip out on the rice! Rice is life in Hawaii…
Sauces: Beef stock to give your base soup flavor when simmering the meat. Tomato sauce for that delicious unique island style flavor.
Bonus add-ons: If you feel like the stew needs more saltiness to it, add in a dash of shoyu when served. I also want to let you in on a guilty pleasure of mine…I love adding in Tabasco or hot sauce for extra spiciness! Go try 'em!
How to make Hawaiian Style Beef Stew
I like to think that this is a fairly simple and easy recipe. Basic large cuts to the vegetables and meat and simmer for 2-3 hours.
Brown the beef: I remember my dad always telling me to "make sure to coat the meat in flour and brown it (fry the beef)." By "browning the beef," it creates a crispy outer layer that prevents the meat from drying out when simmering it for a long period. It also creates another rich flavor to the stew when the browned beef leaves behind a layer of browned bits. Also remember to throw in the garlic as you fry the beef as it will give a nice garlic flavor.
2-3 hours of simmering: The key step to this recipe is simmering the beef in the beef broth for 2-3 hours. Don't add in the veggies yet, so you don't end up with mushy chunks. Add in the veggies and potatoes at least 40 minutes into the simmering process to have it cooked thoroughly but firm.
Thicken (optional): A technique to thicken the stew is smashing some of the potatoes while it is simmering. Its starch will naturally thicken it, but if it's not thick enough, add in a slurry by combining one part water and one part cornstarch. Thicken to your desired consistency or until it looks like a heavenly rich gravy stew.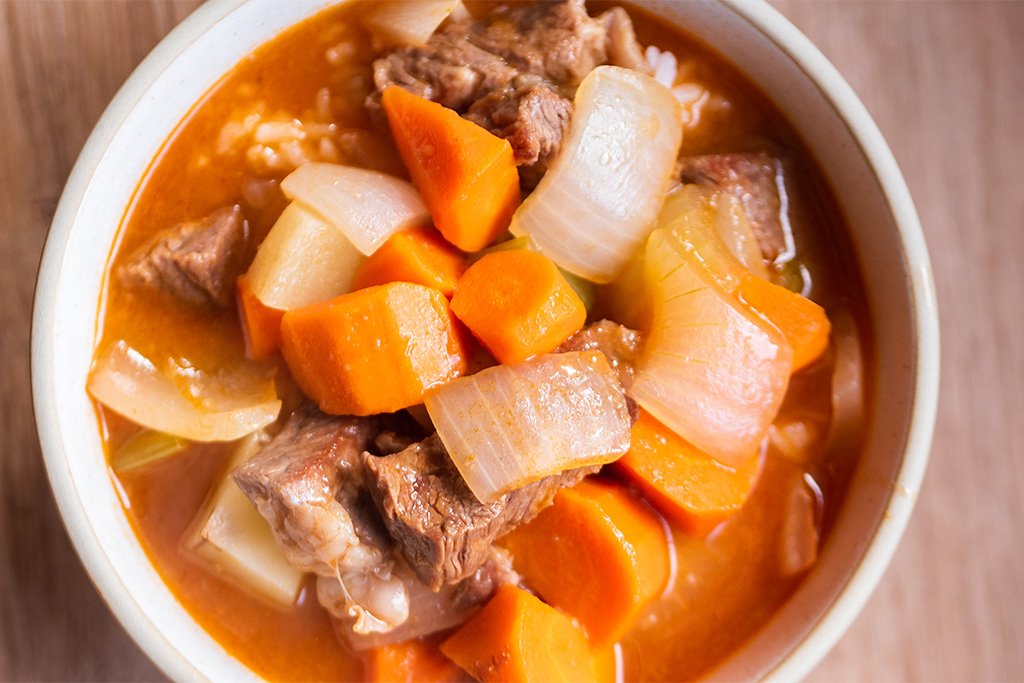 Give this onolicious recipe a try to feed a family on budget yet a comfort type of food that will warm up the body and soul. If you did give it a try, please leave a comment with a star rating below. Mahalo!
Other ways to cook Beef Stew…
Yes there are different ways to cook beef stew! You can use Instant pot or a Crock pot. Here are short instructions on how to use these different equipments:
Crockpot – Flour your beef and brown beef in a separate pot. Add the beef to the crockpot along with the beef broth. Set it to Low for 8 hours. One hour into it, add in the rest of the veggies and tomato sauce. Serve with rice and enjoy!
Instapot – Flour your beef. Brown the beef by adding in oil and selecting Sauté. Add in the beef broth, veggies, and tomato sauce to the Instapot. Cover and select High Pressure for 45 minutes. Serve with rice and enjoy!
Video Tutorial
Check out this video to help you gain more insight on how to make Beef Stew. Also, subscribe to my YouTube to help support me so I can continue making more of these contents. Mahalo!
Hawaiian Style Beef Stew
This Hawaiian Beef Stew recipe is a long time island comfort food. Serve this piping hot stew over white rice to warm your soul.
Ingredients
2

lb

chuck roast

flour to coat the beef

2

large carrots

1

medium yellow onion

3

celery stalks

2

large potatoes

1

clove

garlic

6

cups

beef broth

8

oz

tomato sauce
Slurry (optional)
2

tbsp

cornstarch

2

tbsp

cold water
Instructions
Peel the potatoes and carrots. Cut all the vegetables and potatoes into large chunks. Cut the meat also into bite size pieces then flour all sides of it.

Heat a large pot over medium heat. Add in about a tablespoon of oil then add the crushed garlic. Brown the garlic then add in the meat and cook it until it starts to turn brown.

Add in the beef broth and let it boil then turn it down to low heat to simmer for 2-3 hours covered.

Add in the chopped vegetables and let it simmer for another 40 minutes.

If you would like a thicker stew, either crush a few potatoes or add in the cornstarch slurry. Adjust measurement to desired consistency.

Serve over hot rice and enjoy!
Notes
*Recipe has been updated compared to the old video. It still has the same concept but slight modifications to the ingredients.