This post may contain affiliate links. Read about our privacy policy.
Jai is a vegan dish full of nutritious and filling ingredients
What is Jai?
I first heard of Jai through my aunt. She would recount how my Grandma would always make Jai for Chinese New Years. She would go downtown Chinatown to buy all of the ingredients.
My aunty also mentioned that my dad loved eating this dish, which I followed up and asked him. My dad said he looooved eating Jai, especially the ginkgo nuts and bean curd sticks. He said, "he loved the rubbery texture" of the bean curd sticks.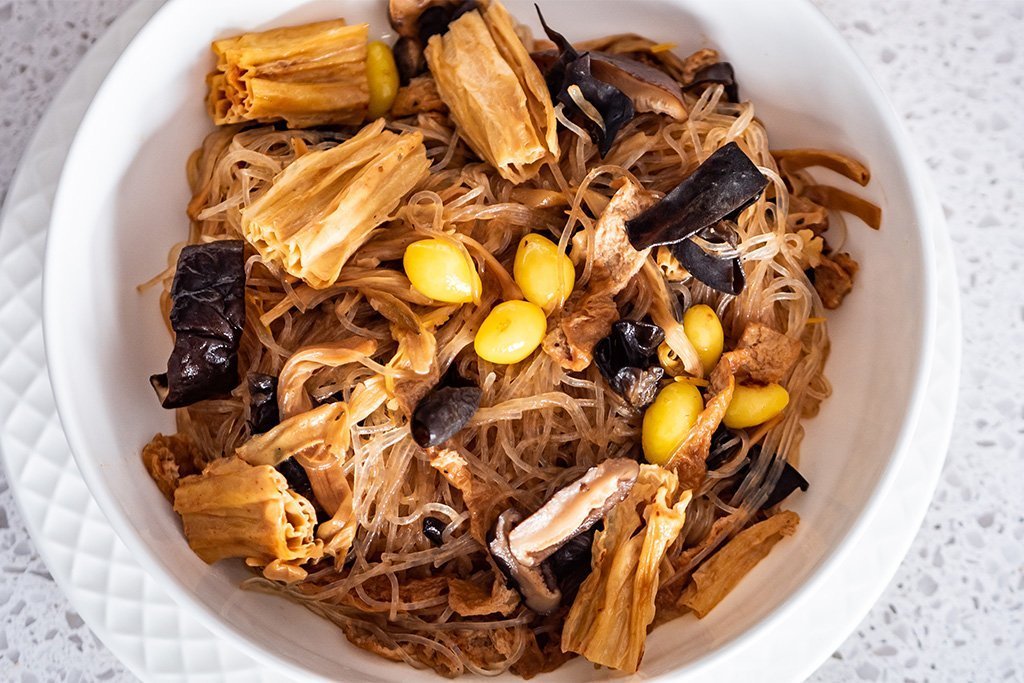 Eating Jai for Chinese New Year
Because Jai is typically a vegetarian food, it was the perfect dish to welcome the new year with good health or self-purification. Some even say that Jai also brought good luck. Another typical dish that is enjoyed on Chinese New Year is Gau. Check out my recipe if you'd like to also serve this for the new year.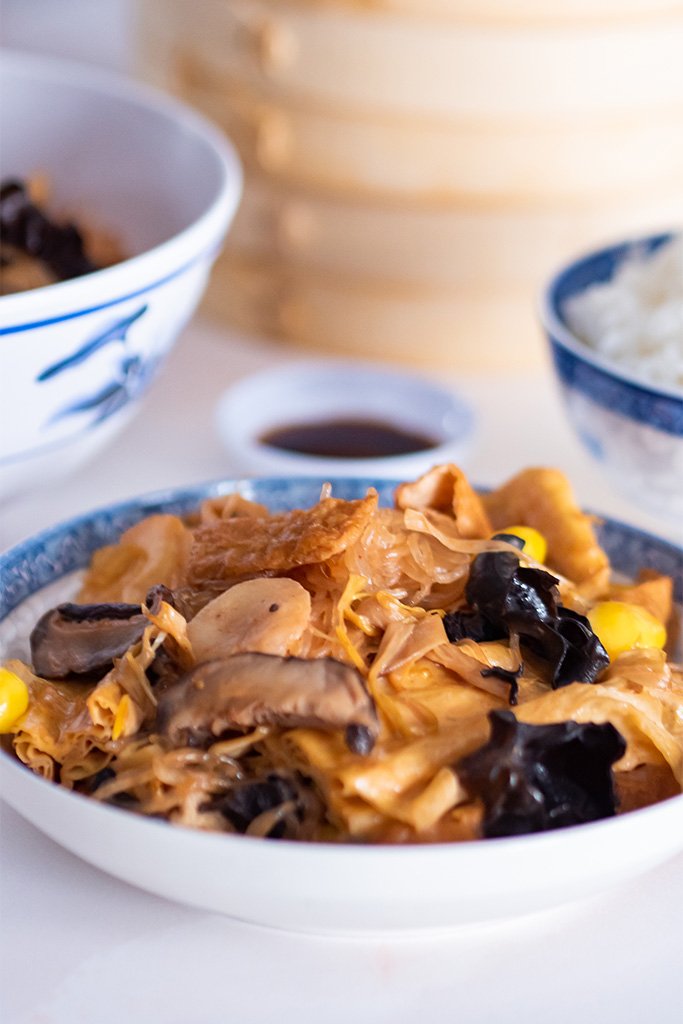 Where can I find the ingredients?
Most of the ingredients can usually be found in any typical Asian market. My dad reported that finding some of the ingredients on Maui took a little more of an effort. He found the red and white fermented bean paste at a Filipino store and TJ's Warehouse Outlet.
You could also order some of the ingredients online such as Amazon.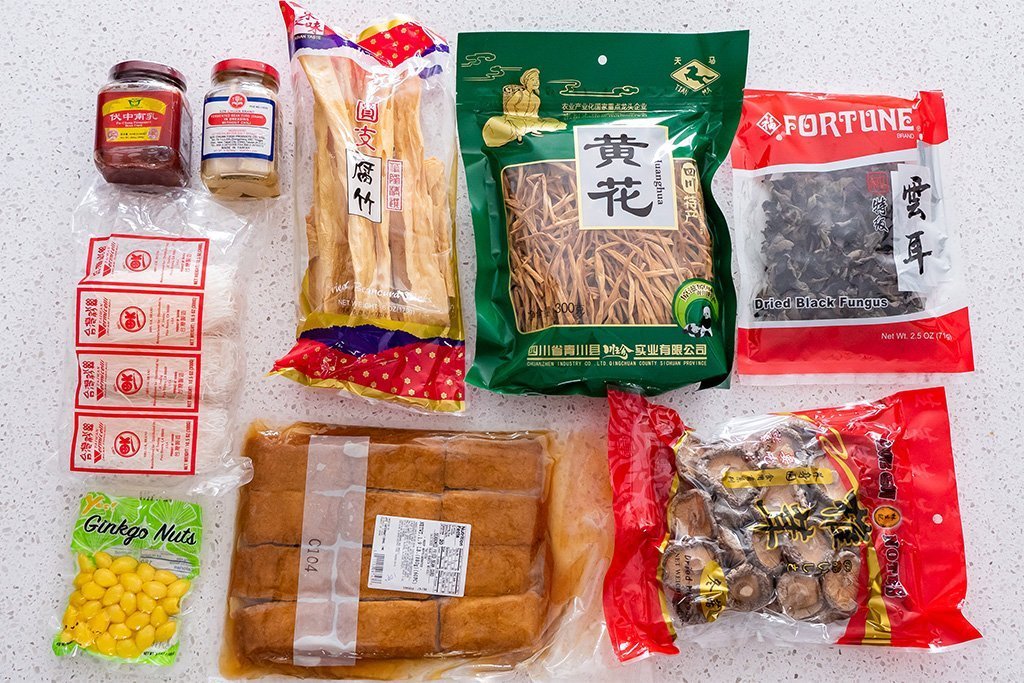 What are the ingredients for Jai?
Every household or restaurant has their own version of Jai. For my Grandma's recipe, she likes to use these common ingredients:
Bean thread noodles
Dried lily flowers
Black wood ears
Shiitake mushrooms
Dried bean curd sticks
Water chestnuts
Ginkgo nuts
Fried bean curds
Fermented red bean curd
Fermented white bean curd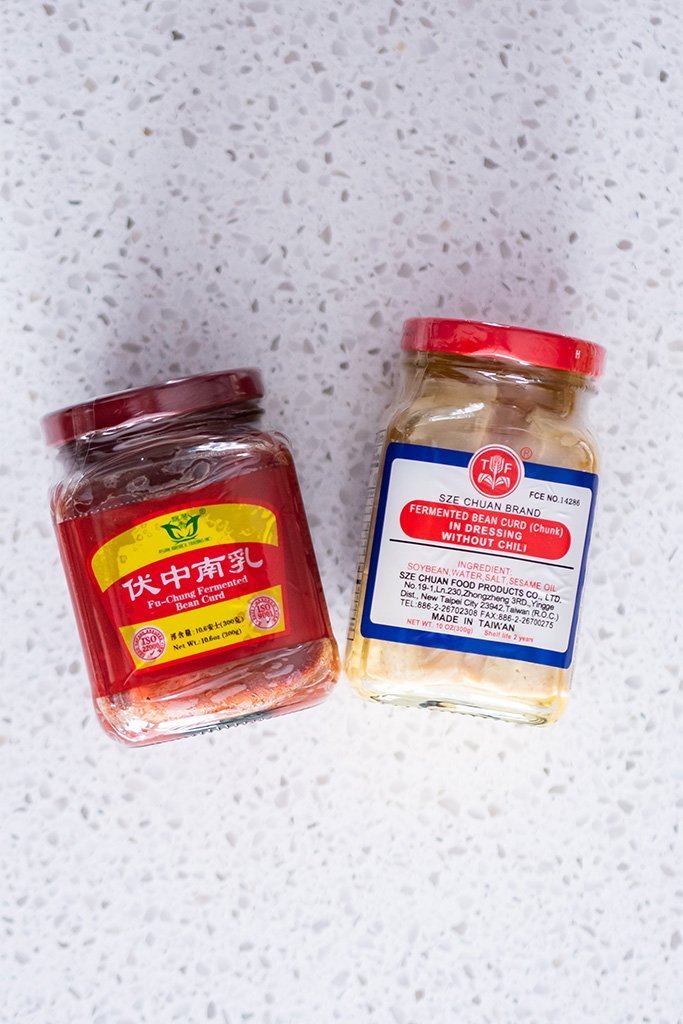 Extra tips or FAQ for Jai
Once you gather all of the ingredients, be sure to soak it ahead of time or according to the package. After that, it is fairly simple by stir frying all of the ingredients together and serving!
Plan ahead and you can have the ingredients soaked ahead of time and have everything cut and lined up to be quickly thrown into the wok to be stir fried. You could save any leftovers in airtight containers that could last about 5 days in the fridge.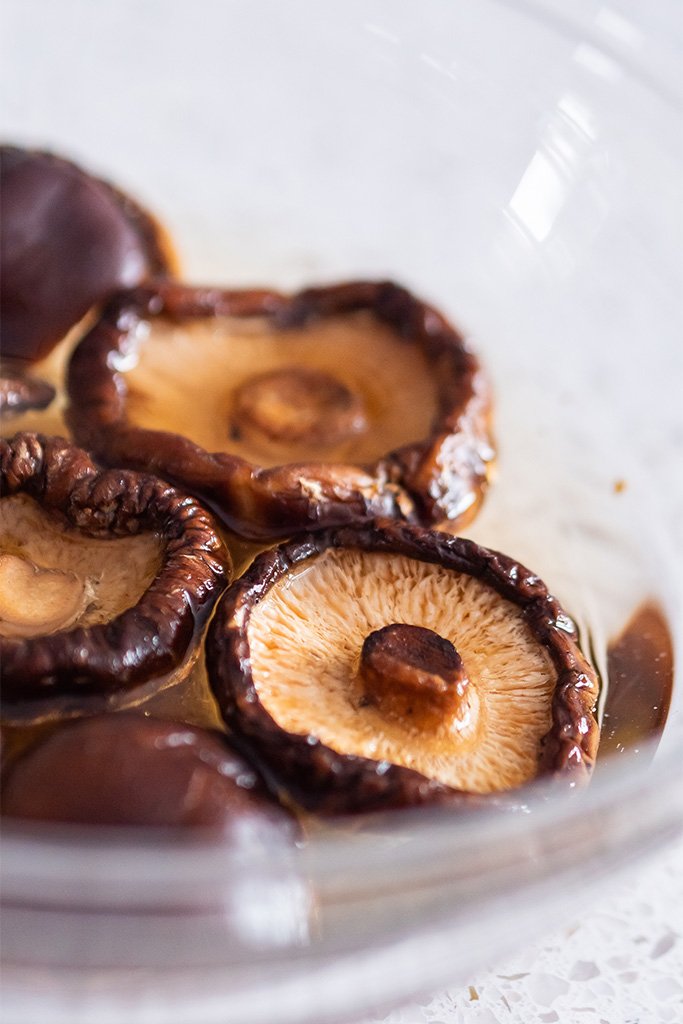 How to make Jai
Bring a pot of water to a rolling boil. Follow the cooking instructions for your noodles.
Drain and rinse the noodles in cold water. Set aside.
Combine the sauce in a small bowl and set aside.
In a wok or non-stick pan, add in the oil. Heat it over high heat and add in the lily flowers mushrooms, and black fungi. Stir fry for about three minutes.
Then add in the bean curd sticks, water chestnuts, ginkgo, and fried bean curd. Stir fry for another three minutes.
Add in the noodles and sauce. Mix everything together and bring it to a simmer. Simmer for about five minutes or until all of the sauce has been soaked up.
Serve hot and enjoy!
Give this onolicious recipe a try! If you did give it a try, please leave a comment with a star rating below. Mahalo!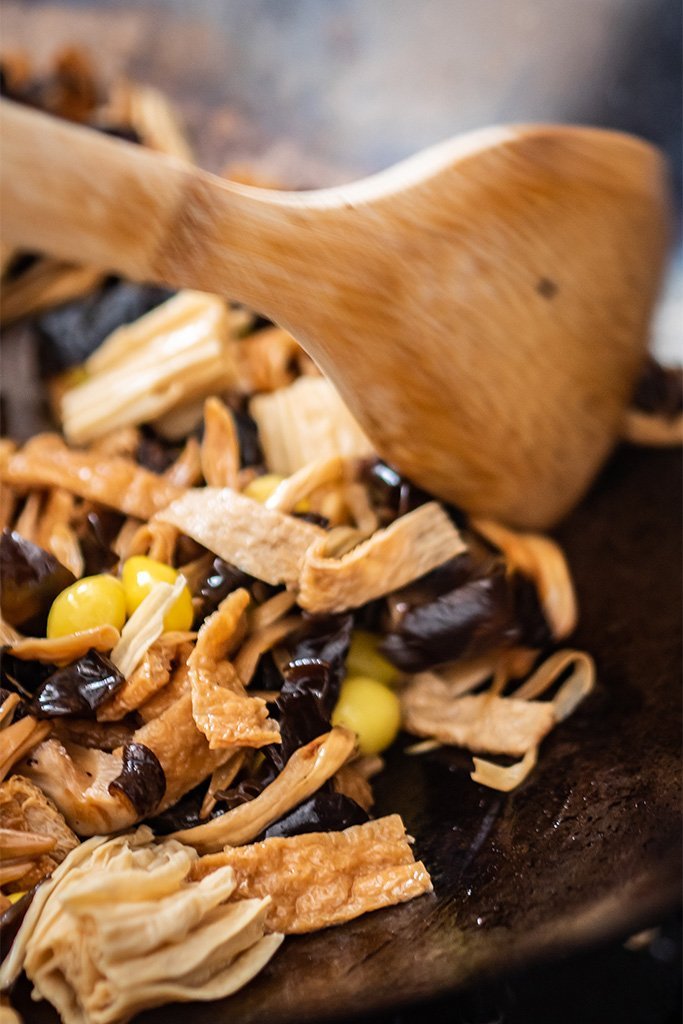 Video Tutorial
Check out this video to help you gain more insight on how to make Jai. Also, subscribe to my YouTube to help support me so I can continue making more of these contents. Mahalo!
Grandma's Jai (Buddha's Delight)
Get ready for a flavor explosion in every bite with Chinese Jai, the beloved vegetarian dish also known as "Buddha's Delight"!
Ingredients
2

tbsp

oil

1/4

cup

dried lily flowers

2

bunches

of bean thread noodles

1/4

cup

dried black fungi

(black wood ears)

6

dried shiitake mushrooms

2

dried bean curd sticks

1/4

cup

water chestnuts

1

cup

ginkgo nuts

1

cup

fried bean curd
Sauce:
1

tbsp

fermented white bean curd

2

tbsp

fermented red bean curd

2

tbsp

oyster sauce

3

tsp

sugar

1

cup

water