This post may contain affiliate links. Read about our privacy policy.
On-the-go lunch, dinner, or snack shaped in a rectangular musubi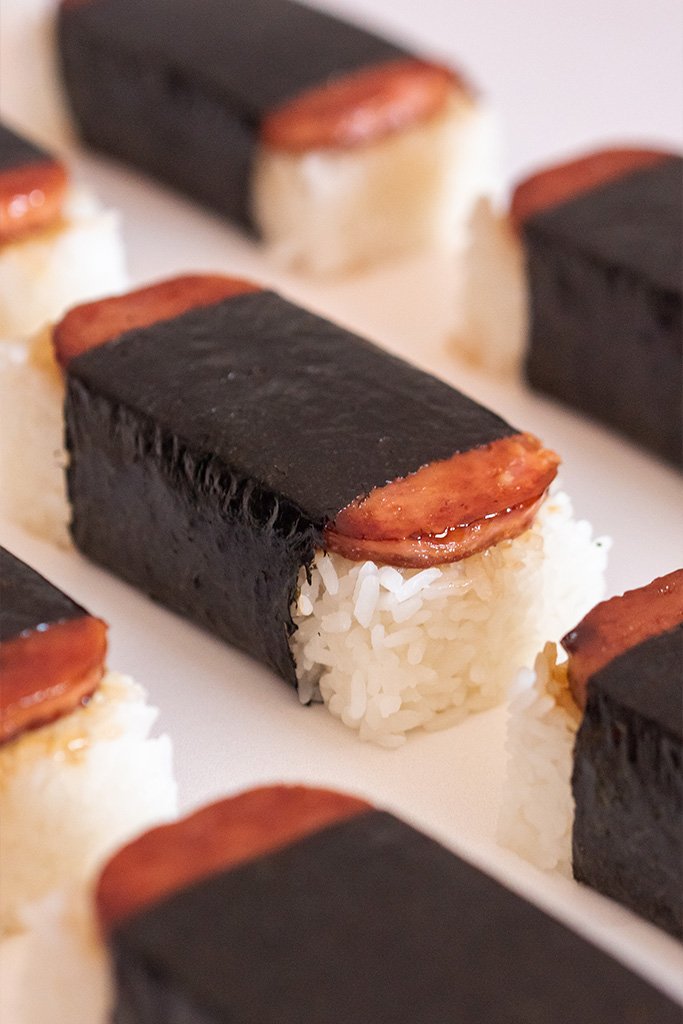 Hawaii's iconic Spam Musubi
Ohhh this by far screams my childhood in Hawaii. Spam musubi was packed into my lunch for school, the beach, and a hike. It is so common in Hawaii that you can find it at convenience stores like 7-11, Minute Stop, and gas stop stations.
Most of my mainland friends were shocked when they first heard me talking about spam musubi. Once they gave it a taste, they were hooked onto its salty and umami taste.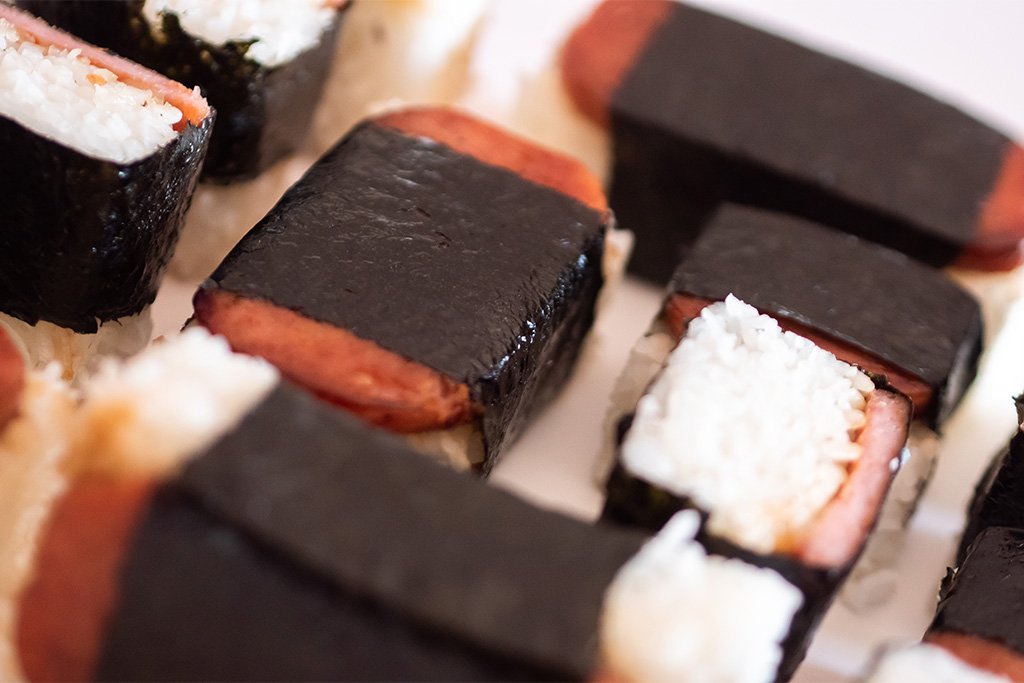 Where did Spam Musubi come from?
Spam Musubi was heavily influenced by the Japanese Onigiri. A Japanese onigiri is usually made of rice formed into a triangle and wrapped by a piece of nori. Sometimes these onigiri is stuffed with a salty plum in the middle. Barbara Funamura is credited to be the inventor of Spam Musubi back in 1982. At first it was in the shape of a triangle stuffed with spam, but later a rectangular mold was introduced which coincidentally fitted a spam.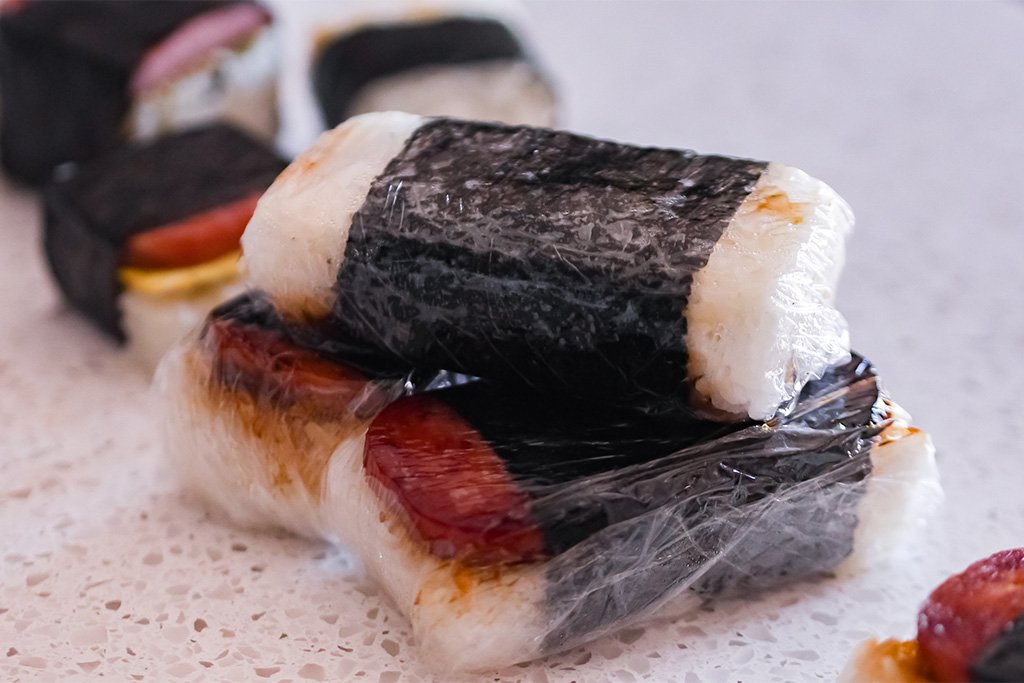 What's Spam?
Spam is a brand made by Hormel Foods Corporation. It is made of cooked pork that became popular during World War II. It became so popular in Hawaii during that time, every household was incorporating spam into their every day meals.
Spam was loved for its convenience of protein packed into a small can. Its key taste of saltiness is what captivated the locals of Hawaii. Not only was it a tasty ingredient but at the time, it was a cheap ingredient to use.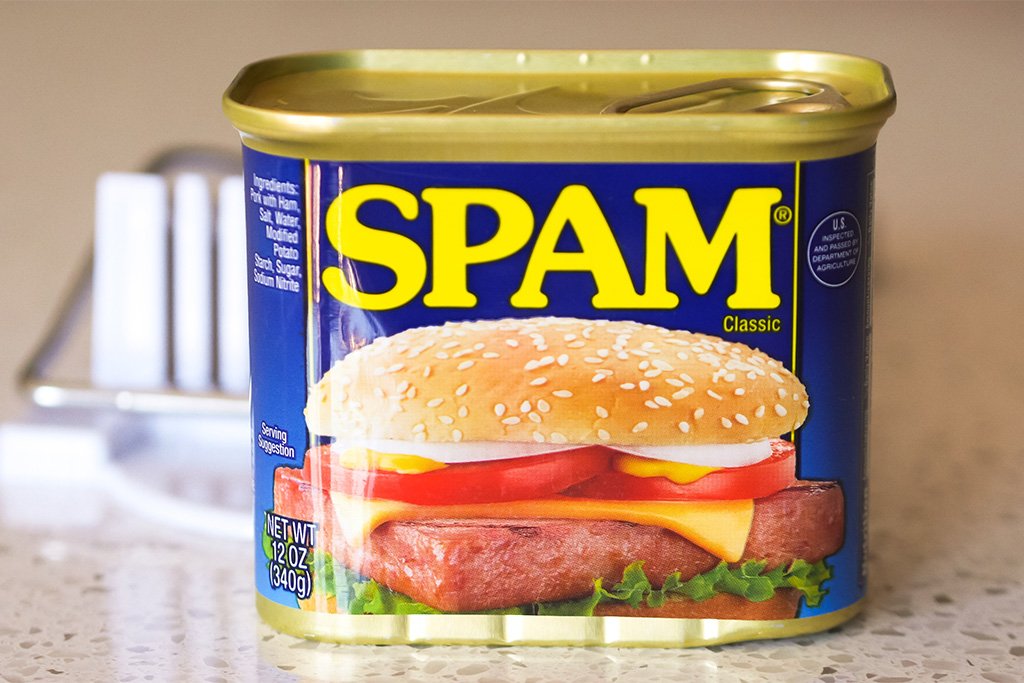 Different types of Spam Musubi
There are a variety of types of Spam Musubi like Furikake Spam Musubi, the breakfast Spam Musubi (an egg added into it), and Teriyaki Spam Musubi.
I've also seen others using Portuguese sausage as a replacement for Spam in their musubis. I honestly believe you can customize it however you like!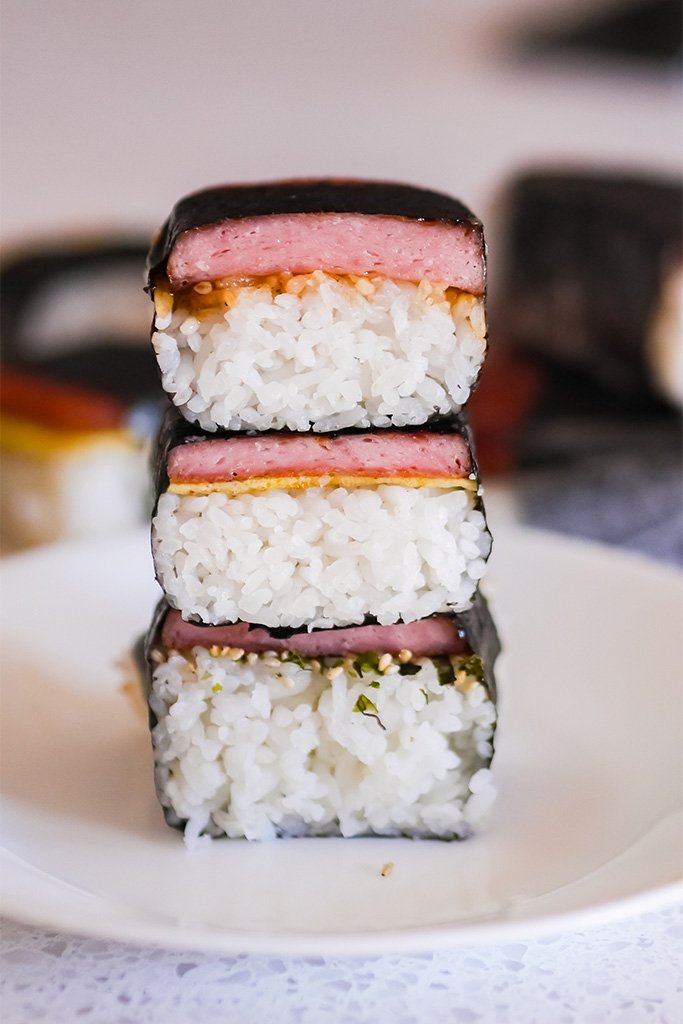 How to make Spam Musubi
Making Spam Musubi is very easy:
Cook at least 5 cups of rice for one can of Spam
Slice the chunk of spam into about 8-9 pieces. I love using this luncheon meat slicer to get even slices.
Cut the nori into 2-3 inch pieces. Saving the leftovers for other uses or to snack on.
Fry the spam on both sides until desired crispiness.
Assemble the musubi by laying down one piece of nori, followed by the musubi mold. Fill the mold with one slice of spam and a scoop of rice. Press down on the rice and take off the mold. Wrap it up with the nori using a dab of water to seal it up.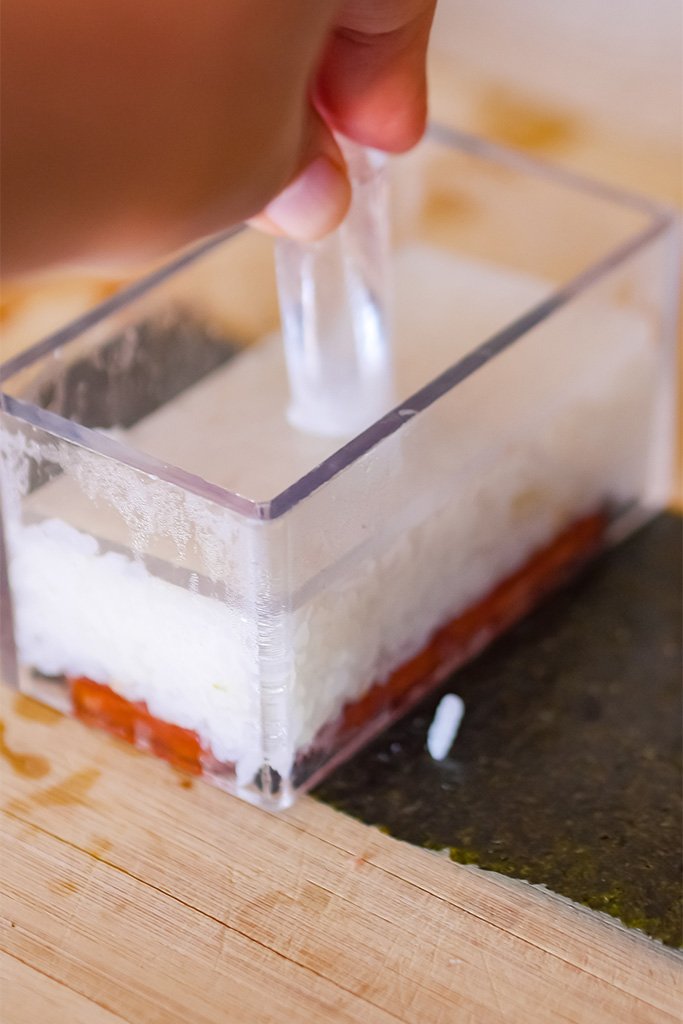 How to store Spam Musubi
Eating Spam Musubi fresh is the best thing! But if you need to pack it, wrap it up in clear wrap. It will still be good to eat for the day.
If you are saving it for another day, store it up to a week wrapped in clear wrap in the fridge. Reheat it in the microwave for a minute before eating.
Give this onolicious recipe a try! If you did give it a try, please leave a comment with a star rating below. Mahalo!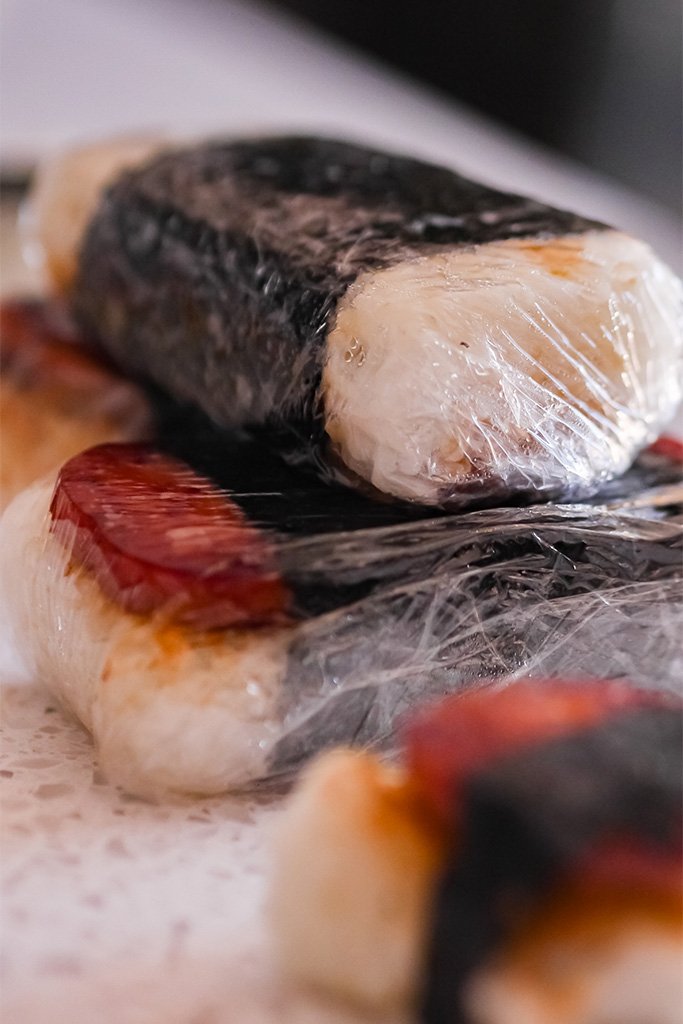 Video Tutorial
Check out this video to help you gain more insight on how to make Spam Musubi. Also, subscribe to my YouTube to help support me so I can continue making more of these contents. Mahalo!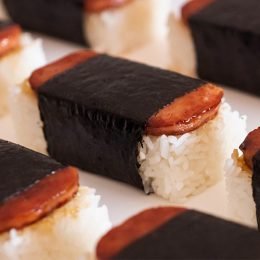 Hawaiian Style Spam Musubi
Learn how to make 4 types of Spam Musubi! A local Hawaiian version to the Japanese musubi. Super simple but super yummy to eat! Pack a spam musubi with plastic wrap and take it with you anywhere for lunch, dinner, or snack! Great for a picnic, swim at the beach, or any hangout.
Ingredients
3

cups

cooked rice

1

can

spam

3

sheets

nori (seaweed sheet)

1/2

tsp

furikake seasoning (optional)

3

eggs (optional)
Teriyaki Sauce
2

tbsp

shoyu (soy sauce)

2

tbsp

white cooking wine

2

tbsp

sugar

1

cloved

crushed garlic
Instructions
Wash and cook rice in a rice cooker. Cut the nori into 3 inch wide sheets.

Open a can of spam and slice it one inch in length. Usually comes out to 9-10 slices.

Fry the spam on a pan over medium heat. 3-4 minutes on one side before flipping it. (Add the teriyaki sauce to the pan and let it cook for 1-2 minutes then flip it over and cook for another minute.)

Place nori down and the musubi mold on top. Place a scoop of cooked rice in the musubi mold. Press down on the rice with the mold handle. Then add the cooked spam and push out the contents with the musubi handle while pushing the rectangle mold up and over the contents.

Wet the ends of the nori with water and fold it towards the middle.

Serve hot or wrap it in plastic wrap to have an on go lunch.