This post may contain affiliate links. Read about our privacy policy.
Yummy grilled savory-sweet chicken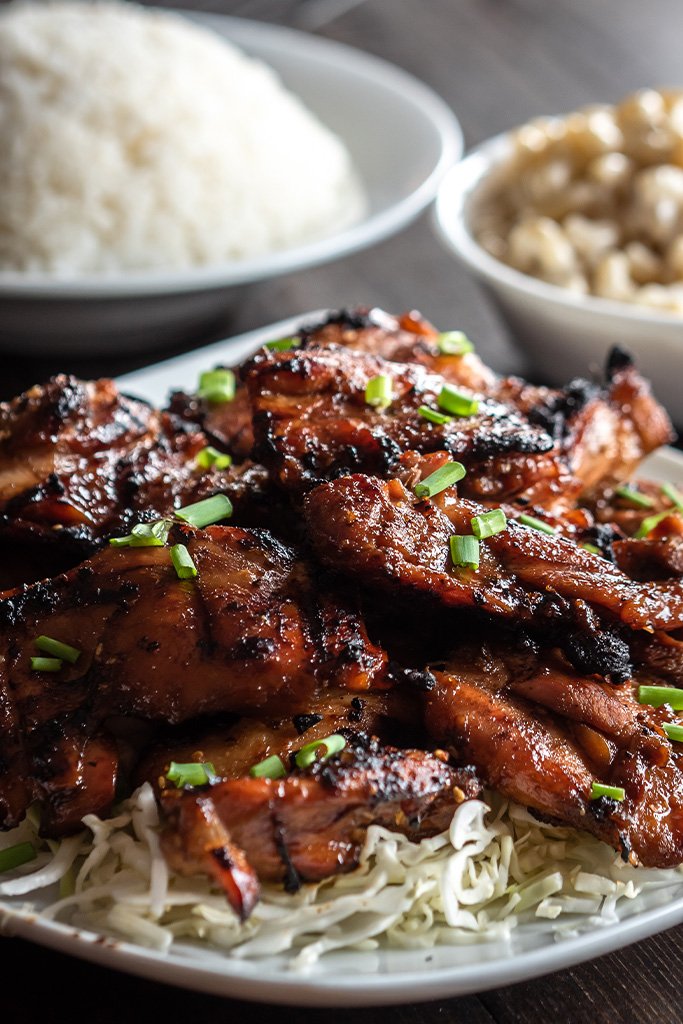 Teriyaki Chicken
Getting ready for the beach was always the best part of the weekend. Pack up the cooler full of ice for the food and drinks. Load up the truck with the family and enjoy the good vibes at the beach!
We occasionally used the beach park's grill by loading it with charcoal and started grilling either khalbi ribs, hamburgers, or teriyaki chicken. After swimming we'd like to eat the good grindz and jam to some local tunes.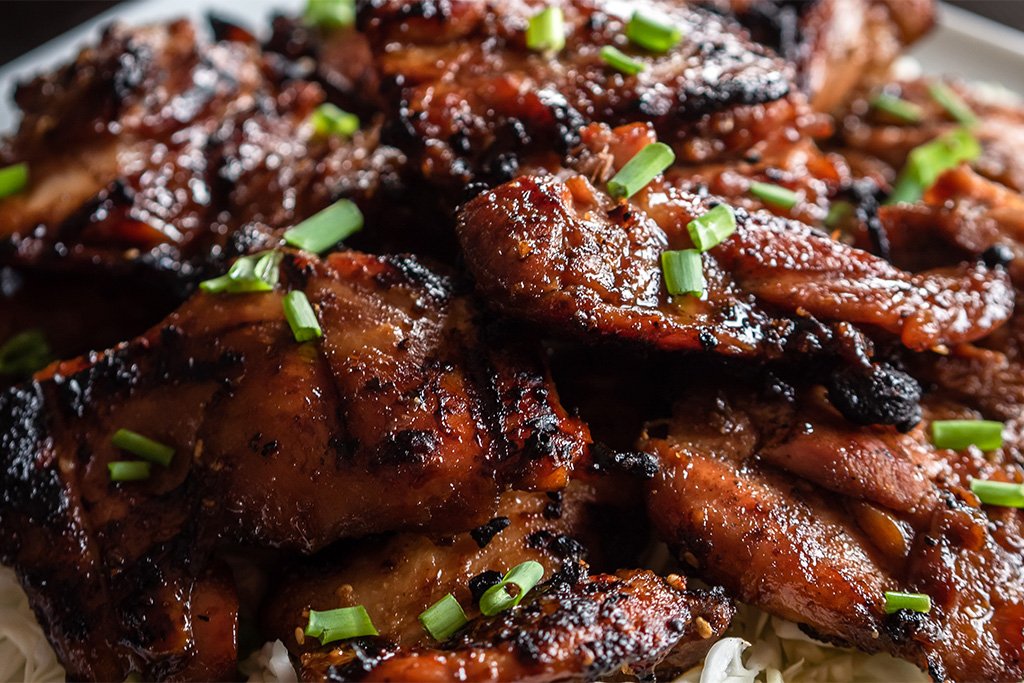 Why I love Teriyaki Sauce
Teriyaki sauce is the most versatile sauce! Here are some few reasons on why I love Teriyaki Sauce:
Multiple uses – I like to use this teriyaki sauce for all sorts of meats and dishes like; beef, fish, and stir fry.
Easy – It's super easy to make and store for future use.
Ingredients – It has pretty basic ingredients that's usually in your pantry
What's in Teriyaki Sauce?
The base of Teriyaki Sauce is just shoyu (soy sauce) and sugar. You can leave it at that but I like to add in a little bit more to give it that "oomph!"
Some optional additions I like to add in it is:
Ginger
Garlic
Sesame oil
Sesame seeds
Ajinomoto (MSG)
Green onions
Most of this is what you usually find in any typical asian recipe. This has such a beautiful array of umami flavors.
Is MSG safe?
Monosodium glutamate (MSG) is clarified to be safe by the FDA. MSG was given a reputation due to the hype of the media and for the fear against Chinese restaurants (Chinese restaurant syndrome, CRS).
Some are sensitive to MSG but it is not harmful. If you are sensitive to MSG, please omit it.
MSG has been used for centuries and can be found in most processed foods like chips, canned foods, salad dressings, etc. It is used mostly as a flavor enhancer.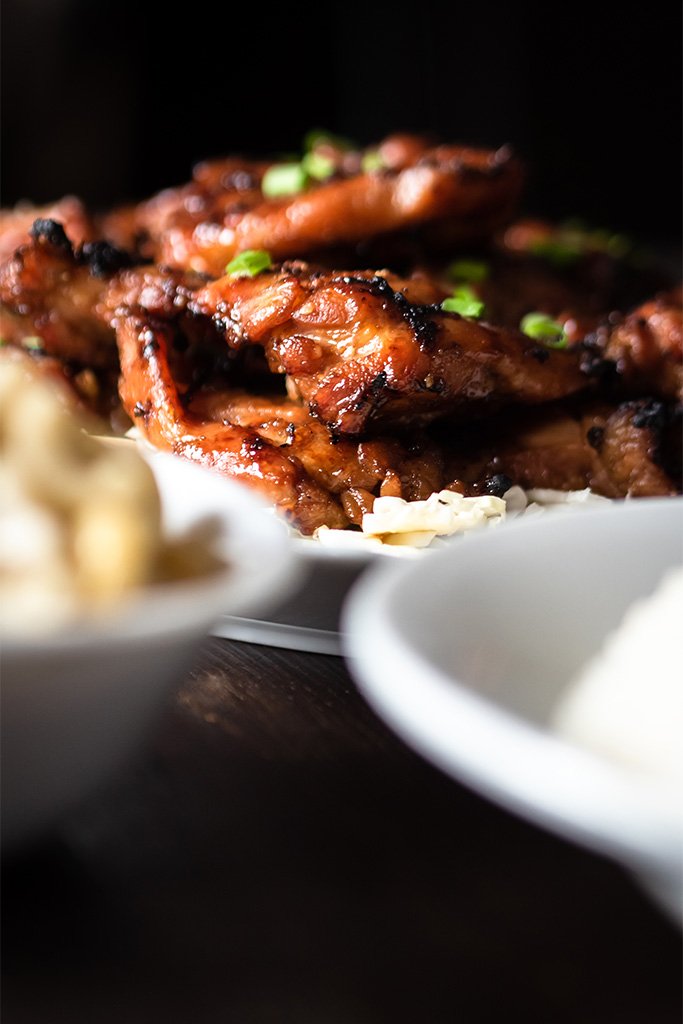 How to prep the Teriyaki Chicken
Making Teriyaki Chicken is super easy:
Combine all of the ingredients but the chicken in a large mixing bowl.
Stir until the sugar has dissolved
Add in the chicken to marinate for 4-24 hours
Grill or fry the chicken
Can I use Teriyaki Sauce for other recipes?
You sure can! You can use it for teriyaki beef, teriyaki stir fry, teriyaki salmon, teriyaki spam musubi, teriyaki burgers, etc.
You name it! Use this sauce to whip up a quick and onolicious meal for the family.
Give this onolicious recipe a try! If you did give it a try, please leave a comment with a star rating below. Mahalo!
Video Tutorial
Check out this video to help you gain more insight on how to make Teriyaki Chicken. Also, subscribe to my YouTube to help support me so I can continue making more of these contents. Mahalo!
Teriyaki Chicken
Nothing beats a good BBQed Teriyaki fresh from the grill with a side of rice and mac salad. Brought to Hawaii from Japan, this recipe has been adopted by the islanders. Teriyaki is most commonly marinated with chicken thighs and beef.
Ingredients
2-3

lbs

skinless and boneless chicken thighs
Base Teriyaki Sauce:
1 ½

cups

shoyu (soy sauce)

1

cup

sugar
Other optional additions:
1

tsp

grated ginger

2

cloves

grated garlic

2

tbsp

sesame oil

1

tsp

ajinomoto (MSG)

2

stalks

green onion
Instructions
Combine the shoyu, sugar, ginger, garlic, sesame oil, sesame seeds, MSG, and green onions in a large mixing bowl. Mix until the sugar has dissolved.

Add in the chicken thighs and make sure most of it has been covered in the sauce. Marinade for up to 4-24 hours covered in the fridge.

Grill or fry each side for about 4-5 minutes or until it has been cooked thoroughly.