This post may contain affiliate links. Read about our privacy policy.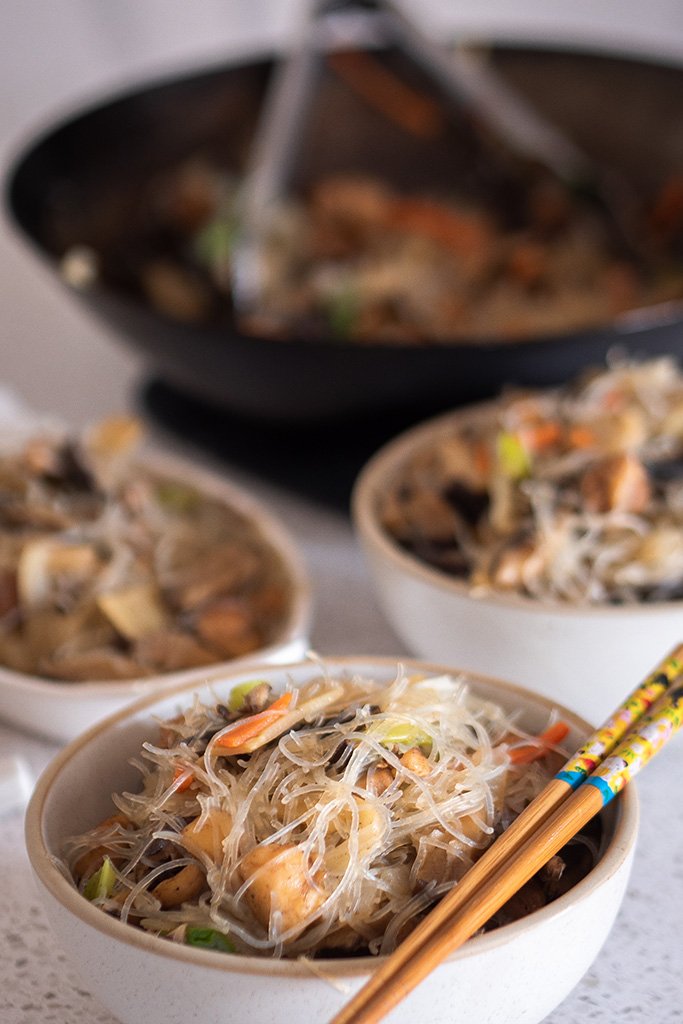 This chicken hekka recipe from Hawaii was given to me by my dad. He was cooking this for Sunday dinner with my brother and suggested I try out this recipe. I enjoyed this chicken hekka recipe so much that I had to share it and to bring back those childhood memories from Hawaii!
Origination of Chicken Hekka
Chicken hekka has a rich history that goes back into the plantation era, which is from the 1880s-1920s. There were many immigrants that wanted to obtain a better life and felt that they could get by moving to Hawaii and working on the sugar plantation. Most of these immigrants working on the plantation were Chinese, Norwegians, Germans, Portuguese, Japanese, Koreans, Filipinos, and even local Hawaiians.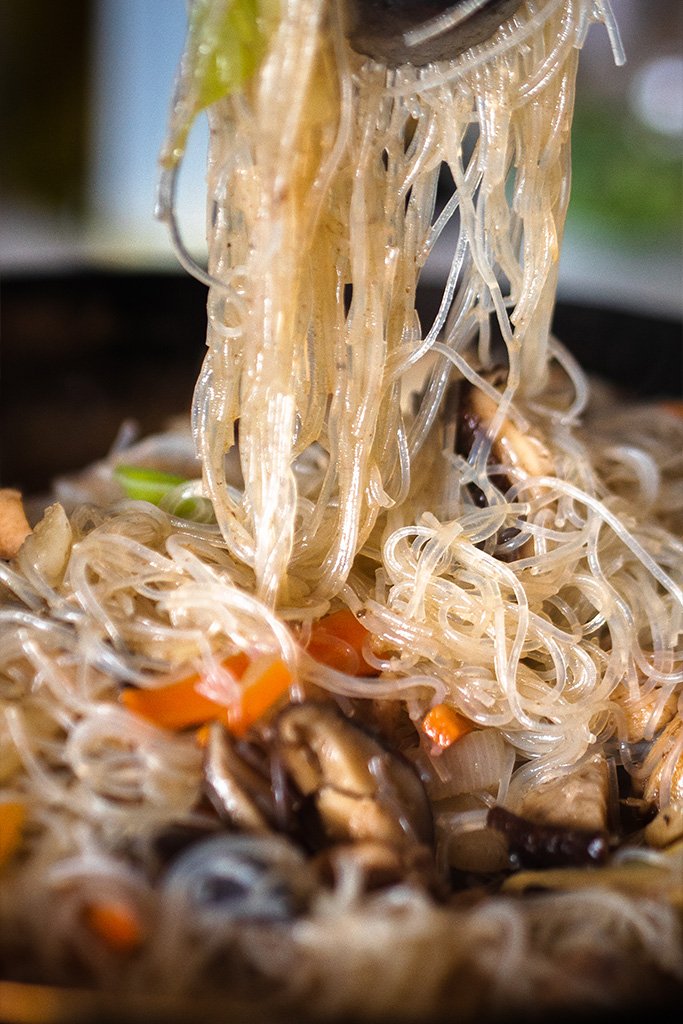 Chicken hekka originated from Japan. Hekka is the Hiroshima dialect for sukiyaki. Many families had their own versions of this recipe that ranged from the different types of ingredients used like tofu or watercress. As time, society, and cultures have changed from the plantation era to modern day, the recipe for chicken hekka has changed as well.
Most of the ingredients are more accessible because of grocery stores and because of the easy access, chicken hekka has been renowned for its watercress, sukiyaki mushrooms, bean thread noodles, and other assorted veggies.
What type of noodles?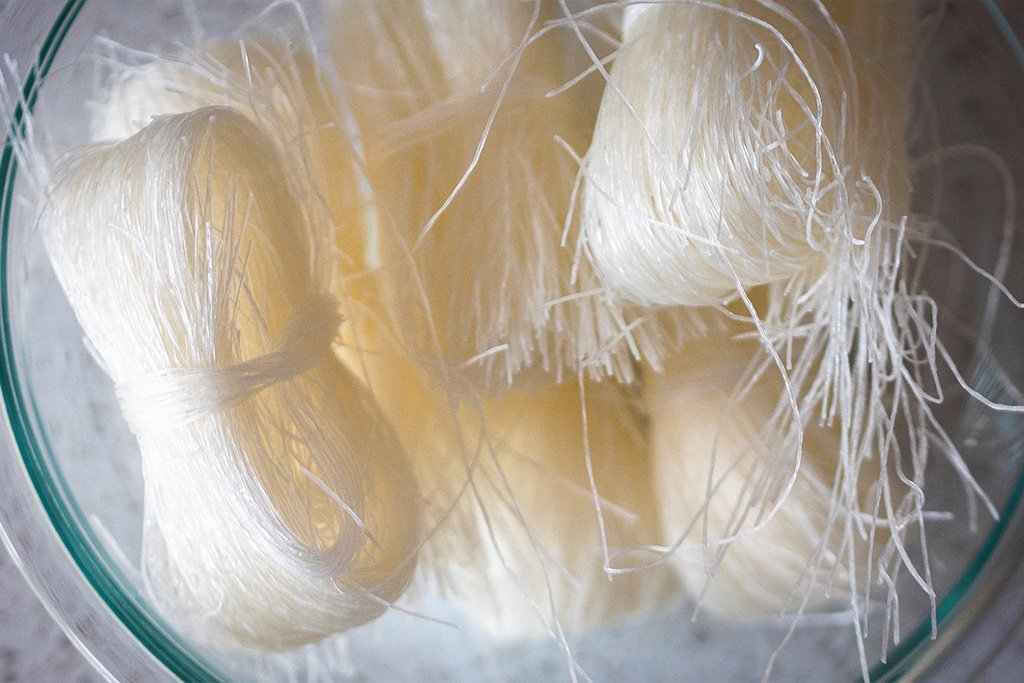 The noodles that I like to use are the bean thread noodles. If you can't find that at your local grocer or Asian market, they are most likely sold under a different name. Such as cellophane noodles, glass noodles, mung bean noodles, long rice noodles. Bean thread noodles are made of starch and water and usually sold in its dried form. To use these noodles it just needs to be soaked or boiled in water then added to the desired dishes. Another recipe that calls for bean thread noodles is Chicken Long Rice!
Can you substitute sake?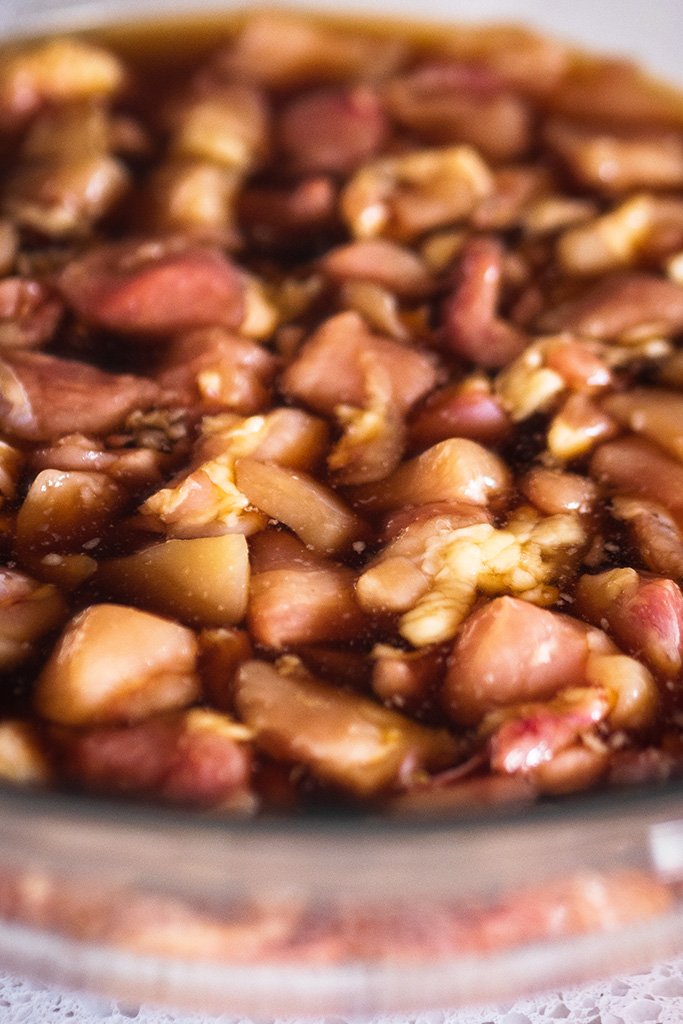 Yes you can! Sake is alcohol made from fermented rice or sometimes called Japanese rice wine. In this chicken hekka recipe, sake is used to help bring more flavors and it could bring the same amount of flavors if you substitute sake with more chicken broth. Substitute it for a 1:1 ratio. This recipe calls for ½ cup of sake so replace the ½ cup of sake for ½ cup of chicken broth.
Are there preparations for chicken hekka?
If you'd like to have a more flavorful dish, yes. There are a couple of things you need to prepare ahead of time. The first is marinating the chicken in the sake sauce. You can let it marinate for 30 minutes, but if you want the chicken to have more flavor, up to 24 hours of marinating it would be perfect!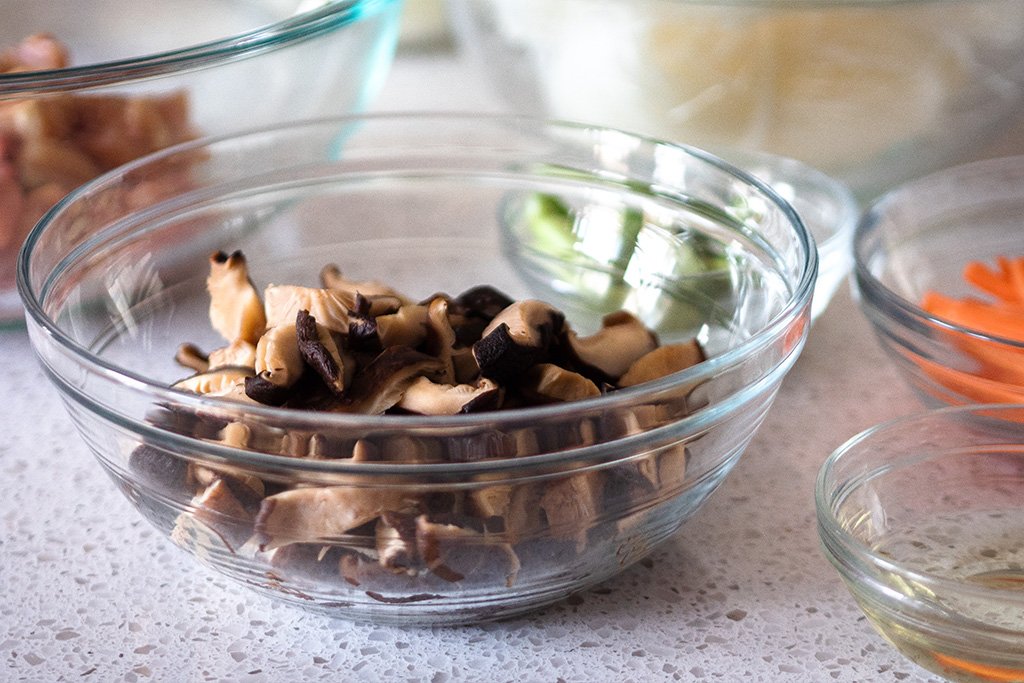 The second preparation is soaking the dried sukiyaki mushrooms. If you are using fresh mushrooms, you obviously can skip this step. Some say you can soak the mushrooms for 30 minutes, but I have found that soaking them for 2 hours or overnight yields tender mushrooms. Make sure you cut off the stems as they are tougher or very chewy to eat.
Methods of cooking
There are different ways to cook chicken hekka such as stir frying it in a wok or large pot. Here is my list of reasons on why I prefer to use the wok:
The wok distributes the heat perfectly for stir frying.
When the wok is seasoned correctly, the meat and veggies won't stick.
The wok cooks the meal fast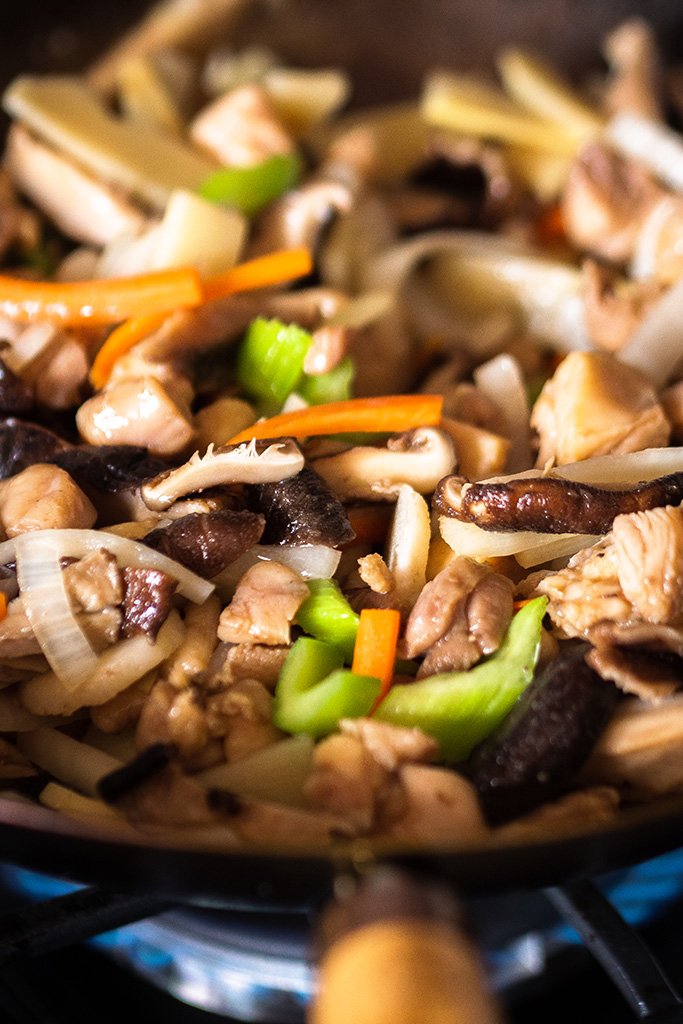 Video Tutorial
Check out this video to help you gain more insight on how to make Chicken Hekka. Also, subscribe to my YouTube to help support me so I can continue making more of these contents. Mahalo!
Chicken Hekka
Chicken Hekka, another classic to Hawaii's vast array of recipes from the plantation era and a favorite childhood dish.
Ingredients
2 1/2

lbs

boneless, skinless chicken thighs or breast

1

can (2 1/2 cups)

sliced bamboo shoots

10

sliced 1/4 inch green onion stalks

1

sliced onion

1

julienned medium carrot

1/2

lb

sliced shiitake mushrooms

2

sliced stalks celery

8

oz can

sliced water chestnut

3

tbsp

vegetable oil

1/2

finger

crushed fresh ginger

1

bundle (2 oz)

bean thread noodles
Sake Sauce:
1/2

cup

sugar

3/4

cup

shoyu

(soy sauce)

1/2

cup

chicken stock

1/2

cup

sake

*substitute for chicken stock
Instructions
Debone and take off the skin of the chicken. Cut into small bite size pieces.

Prepare the vegetables and mushrooms for a stir fry by having them sliced.

If you are using dried shiitake mushrooms, soak it in water for 2 hours to overnight.

In a large bowl combine all the ingredients for the sake sauce; shoyu, chicken stock, sake, and sugar.

Cover and marinate place the chicken in the sake sauce for 30 minutes to 24 hours in the fridge.

Bring a large pot of water to a rolling boil. Add in the bean thread noodles and let it cook for 5 minutes or until it has become translucent. Drain and set aside.

In a pot or large wok, add in the oil. Let the oil heat up over medium heat. Add in the crushed ginger. Fry until fragrant. Add in the marinated chicken while keeping the sake sauce on the side for later use. Stir fry the chicken until all has been browned.

Add the prepared vegetables to the wok; onions, carrots, and celery. Stir fry for about a minute or two.

Add in the sliced bamboo shoots, watercress, and shiitake mushrooms. Fry for another minute or two.

Add in the sake sauce and let it simmer for five minutes. Then add in the noodles and mix it into the veggies and sauce. Lastly add in the green onions and stir it into the dish.

Remove from the heat and serve immediately and enjoy!