Sweet chocolate moist cake frosted with one "winnah" chantilly frosting.
Chantilly
So, why is the chantilly frosting special to Hawaii? The actual classic version is French. It is basically whipped cream that has been sweetened. The Hawaiian version is using butter and evaporated milk to create that creamy frosting.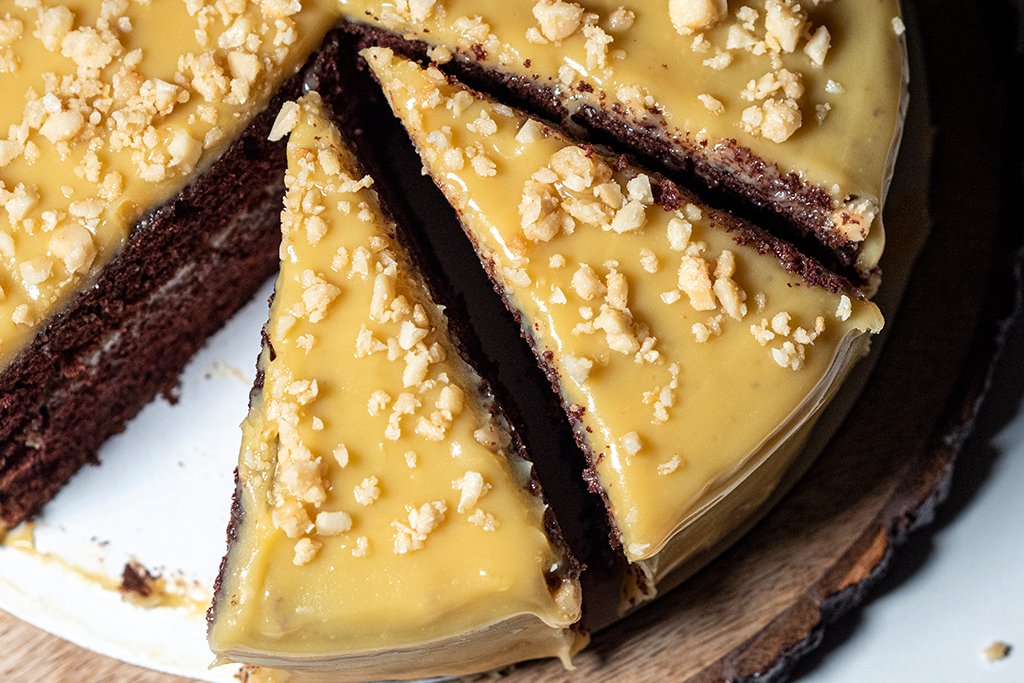 Tools for cake
What tools I recommend to making a cake is all very optional. But if you would like to speed up, convenience, or bake casually, then check out these useful tools to help you out:
The spin table is a handy tool to have when you are decorating or frosting a cake. Though this turntable is cheap and slightly squeaky, it gets the job done. If you'd rather invest in a better turn table, go for it!
The cake boards are a blessing in disguise when you are trying to move your cake from the decorating station to the display stand. If you have trouble moving your cake from one place to another, check out the cake boards!
9 inch cake pans are really what is needed to bake the cakes. 9 inch is pretty standard size for a cake but if you are ambitious, you can always purchase larger cake pans.
Video Tutorial
Check out this video to help you gain more insight on how to make Chantilly Cake. Also, subscribe to my YouTube to help support me so I can continue making more of this content. Mahalo!
Local-Hawaiian Style Chantilly Cake
A rich chocolate cake frosted with Hawaii's signature sweet chantilly frosting, topped with crunchy macademia nuts.
Ingredients
Chocolate Chiffon Cake:
7

eggs, separated

1/2

cup

cocoa powder

3/4

cup

boiled water

1 3/4

cup

cake flour

1 3/4

cup

sugar

1 1/2

tsp

baking soda

1

tsp

salt

1/2

cup

canola/vegetable oil

2

tsp

vanilla extract

1/4

tsp

cream of tartar
Chanitilly Frosting:
2

cup

evaporated milk

2

cup

sugar

6

egg yolks, beaten

1

cup

butter

2

tsp

vanilla extract

4

tbsp

evaporated milk

2

tbsp

cornstarch
Instructions
Chocolate Chiffon Cake:
Have all 7 eggs at room temperature. Separate the egg yolks from the whites and set aside.

Bring the water to a boil either by microwave or over heat. Combine it with cocoa powder and set aside to cool down.

In a large bowl combine the dry ingredients; sifted cake flour, sugar, baking soda, and salt.

In a separate bowl combine the 7 egg yolks, oil, and vanilla extract.

Add the egg yolk mixture and cocoa powder to the dry ingredients. Beat until well blended.

In a different mixing bowl, beat the 7 egg whites and cream of tartar on high speed until it starts to form stiff peaks. Gently fold the egg whites into the chocolate mixture.

Preheat the oven to 325°F. Grease two 9 inch cake pans. Evenly split the batter among the cake pans. Cut through the batter with a butter knife to remove any air pockets.

Bake on the lowest rack for 25-27 minutes or until a toothpick is pierced and comes out clean.

Let the cake cool down first, then gently remove the cake from the pan. Repeat the same procedure for the second layer.

Optional to cut the extra domed shape of the cake to get a nice flat top. Use a long serrated knife to cut.
Chantilly Frosting:
Combine the butter, evaporated milk, sugar, egg yolks, and vanilla extract in a pot over low heat. Continuously stir until it begins to thicken slightly, try not to heat the mixture too fast or it will scramble the egg yolks.

On the side, combine evaporated milk and cornstarch. Add it to the rest of the frosting and stir until the frosting thickens more.

Remove from heat and pour into a container to cool down. Cover and place in fridge to firm up, about 3 hours.
Cake Assembly:
If using a cake board, place a small smidge of frosting on the bottom of a cake board. Center one cake layer on the board. Scoop a generous amount of frosting right on the middle. Spread the frosting out by working your way to the edges. Leave about a quarter of an inch from the edge.

Add on the last cake layer and cover the entire cake with frosting. If the cake has a lot of crumbs in the frosting, put the cake back into the fridge for 30 minutes to firm up the frosting then reapply another layer of frosting. Sprinkle on some chopped macadamia nuts. Put it back into the fridge and let it chill for about an hour to firm up the frosting again.

Cut into the cake, serve a slice and enjoy!