Learn how to make this 'ono Chicken Long Rice! Usually found at a luau as a side dish. It's a savory and simple dish to make for dinner and any special occasion.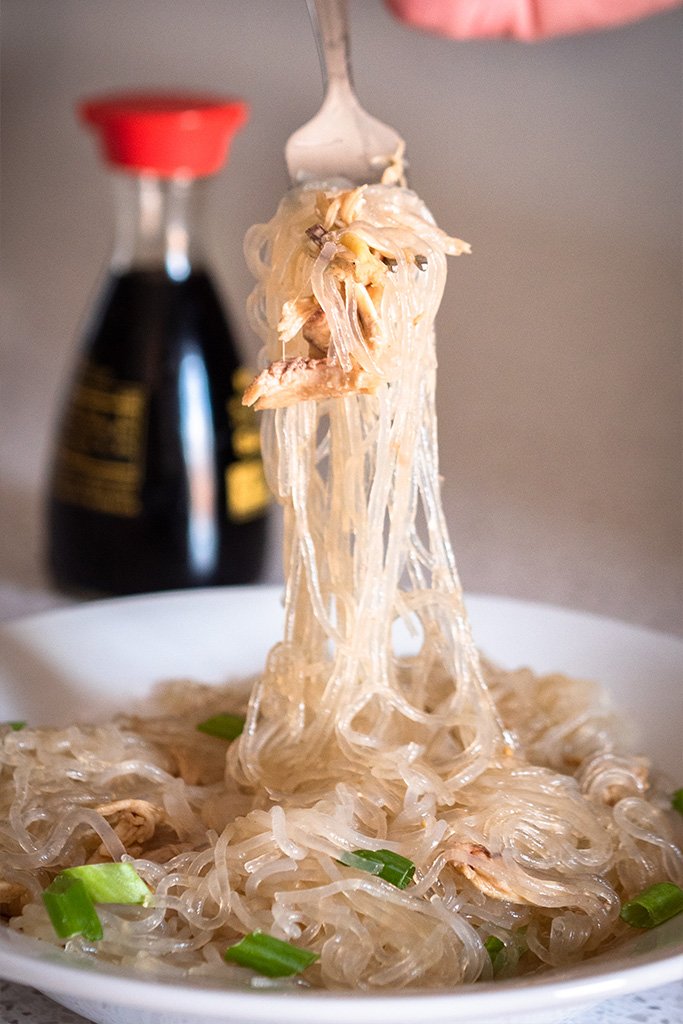 I remember seeing chicken long rice as a side dish at luaus, parties, and potlucks. There are usually two different styles when it comes to chicken long rice; they are either slippery-soupy or a tad dry (enough to easily grab the noodles).
I prefer the latter option just because it lets me easily eat the noodles instead of having a battle trying to stab at the noodles to let it stay on my fork long enough to get into my mouth. I also have a theory that the aunties who made it needed to stretch out the dish…so an easy and fast way to make more servings is just add in more chicken broth. *End rant. Anyways, I adjusted the recipe so that you don't have soupy-slippery chicken long rice.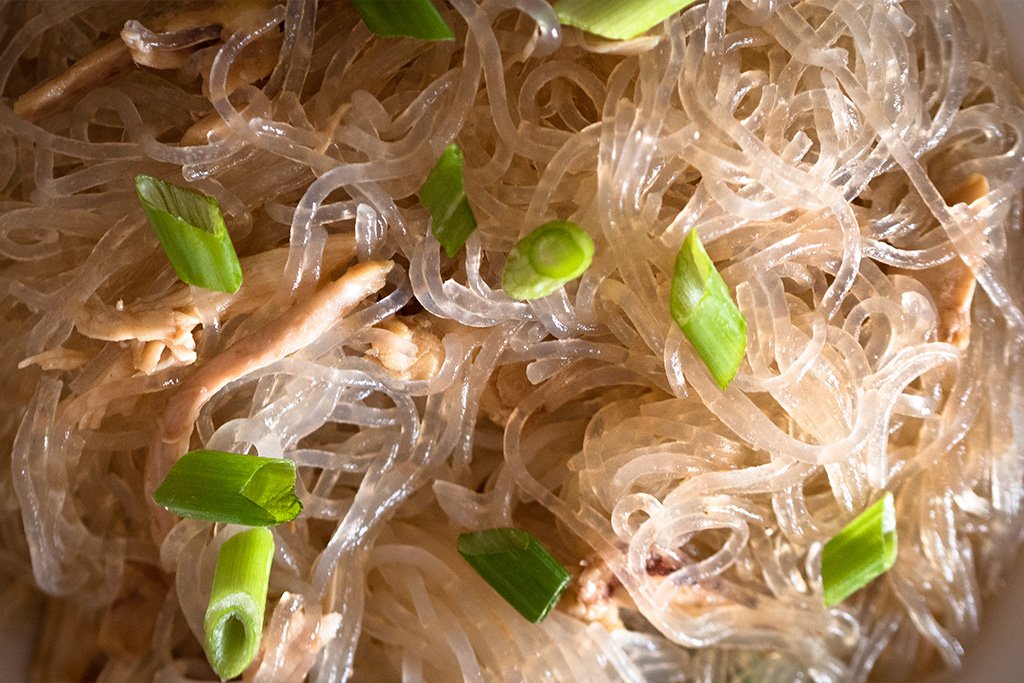 What is chicken long rice?
Chicken long rice is a popular dish in Hawaii. It is a simple dish made of a few simple ingredients like chicken, chicken broth, bean thread noodles, etc.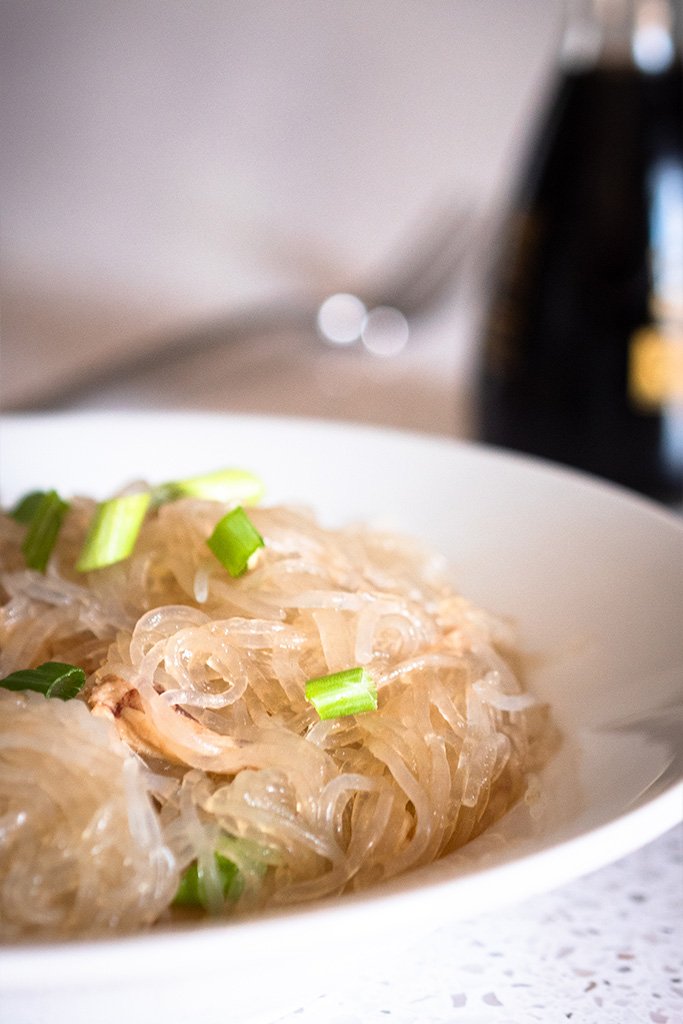 What is chicken long rice served with?
Chicken long rice is served as a side dish. I remember elementary school days when they served it on a paper plate with the dividers. It was always placed in the small upper right corner and I personally felt that it was too small of a serving! I may have asked for more (I was a growing girl!)…
Usually you eat the chicken long rice with kalua pig, rice, and lomi lomi salmon. On occasion it is also paired with poi if one of the aunties brings it. I always ate my chicken long rice with more rice, that is if it was soupy.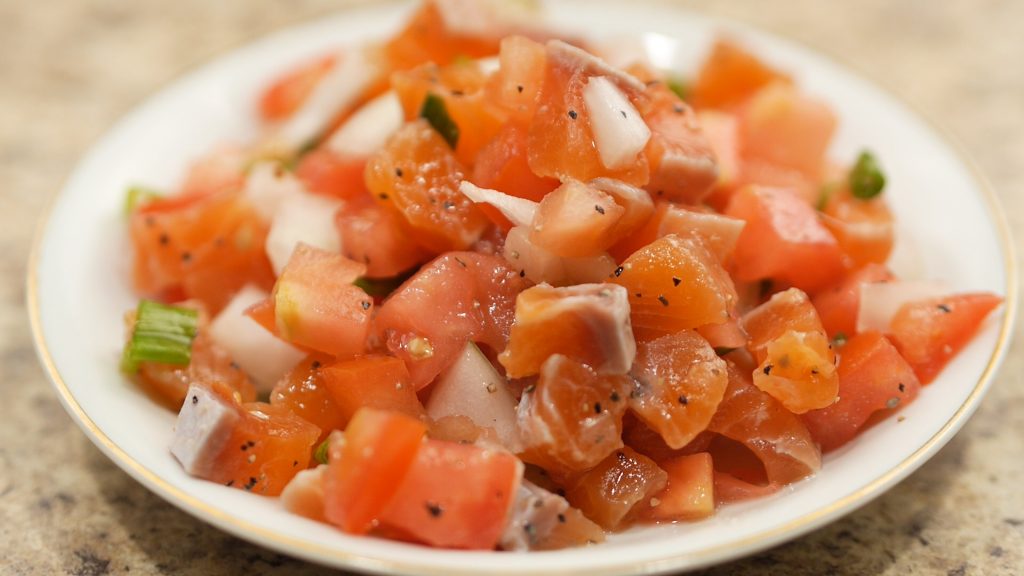 Peeling the ginger
There are plenty of methods to peel the ginger, but the method that was taught by my family was scraping it with a spoon. It's fast and you won't shave off as much of the actual ginger.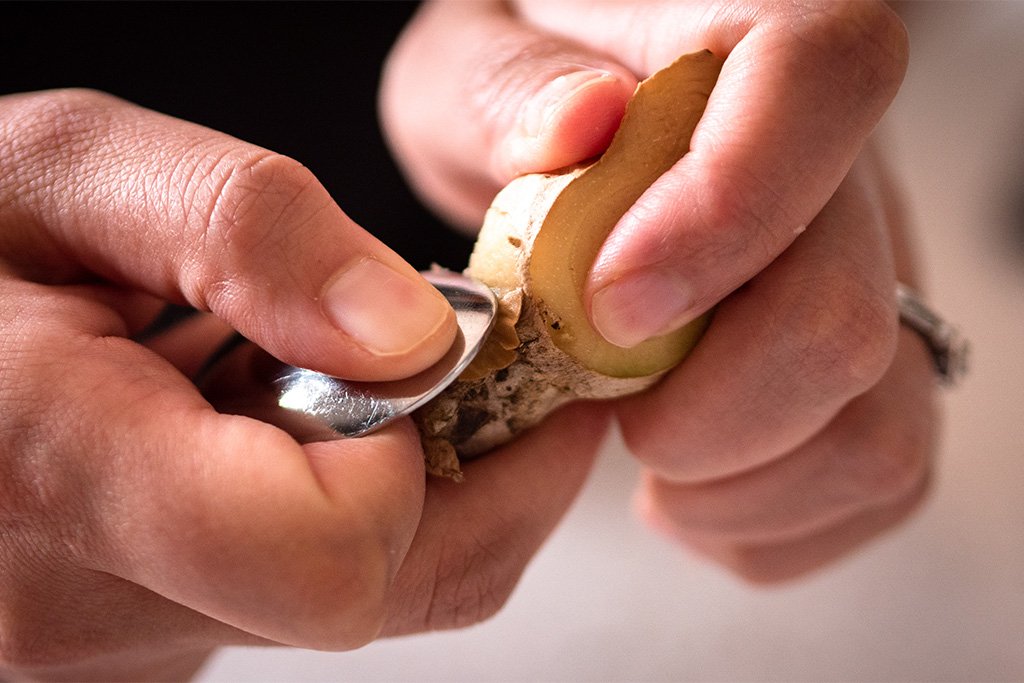 A lot of locals also like to smash a big chunk of the ginger and throw it in the dish. It is big enough that the lucky one who finds it, can simply toss it aside without biting into it (I sometimes was the unfortunate one to chomp on that piece of ginger).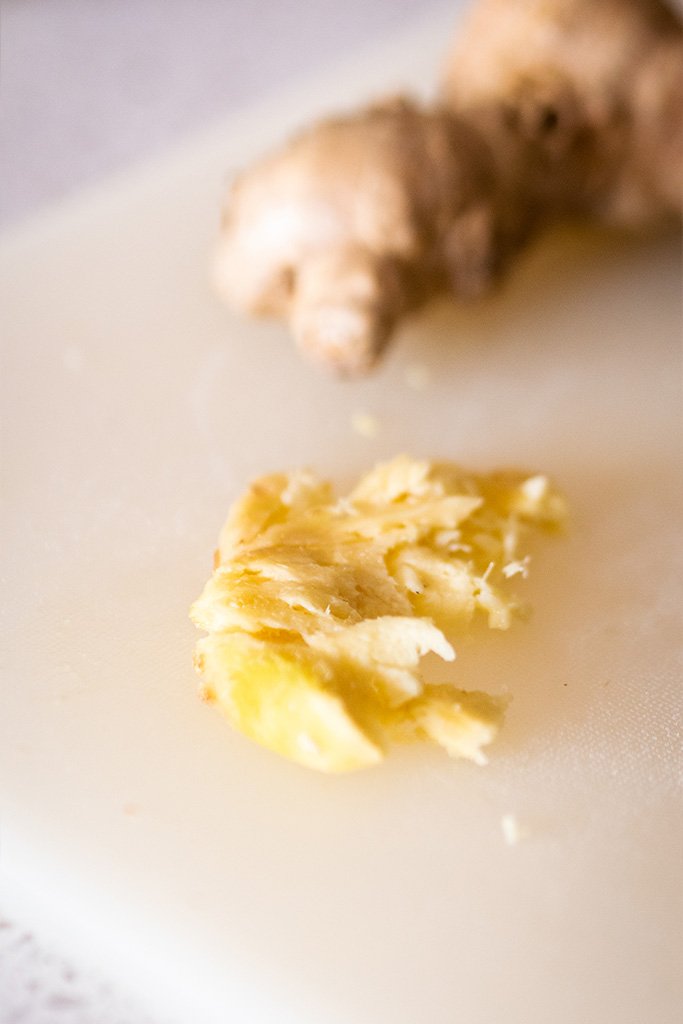 If you don't want to be surprised with accidentally chewing on a piece of ginger, I'd recommend grating or mincing it so that it blends in with the dish.
Chicken thigh or breast?
If you want to stay true to this dish, go with the chicken thigh. The chicken thigh has a lot of juicy flavors and is more tender.
Chicken breast of course is the healthier option but it loses on being juicy and it tends to be drier. But it is still a great option to use if you want to watch your calories.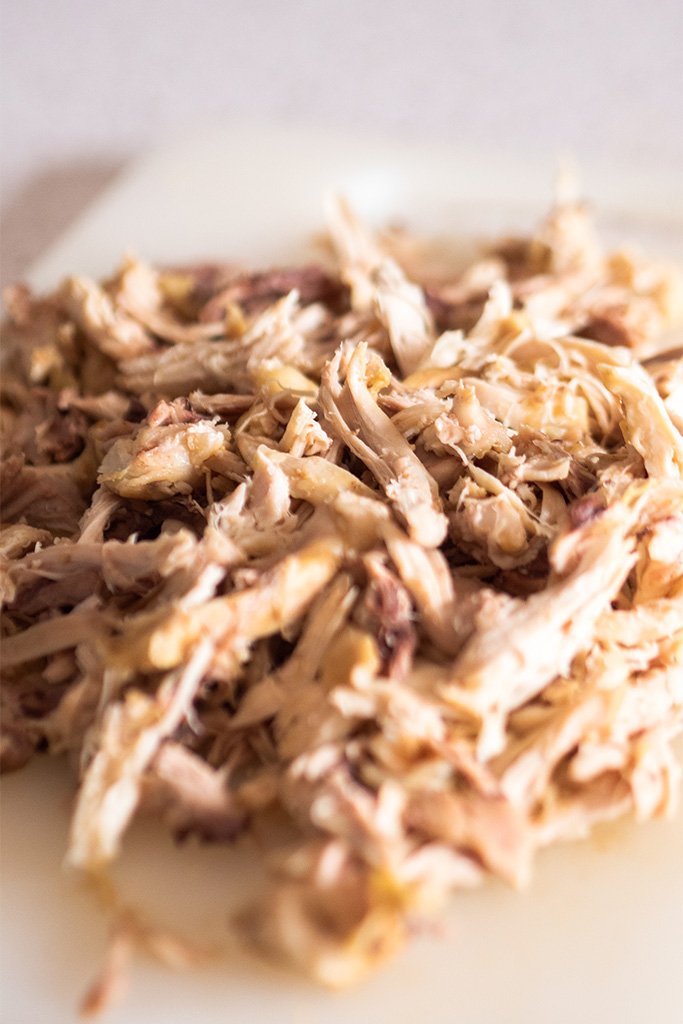 What type of noodles are used?
The type of noodles you need to look for are sold under many different names. Buy anything called cellophane noodles, glass noodles, mung bean noodles and long rice noodles. If you need a brand to use, try these noodles!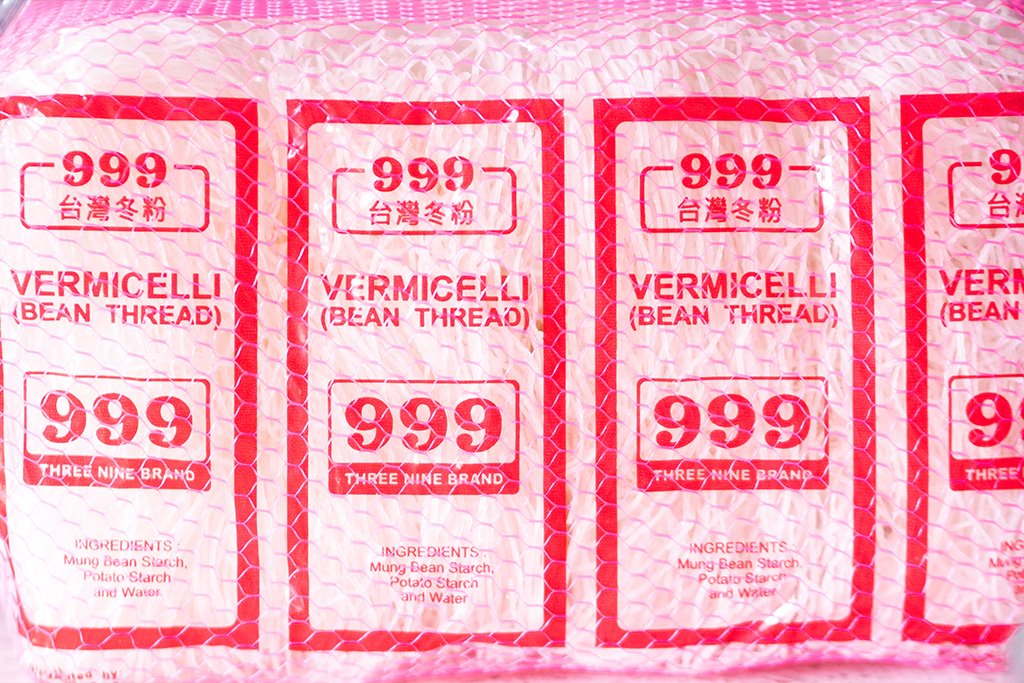 If you are craving for another recipe that uses these noodles, my Chicken Hekka recipe is another dish you should try.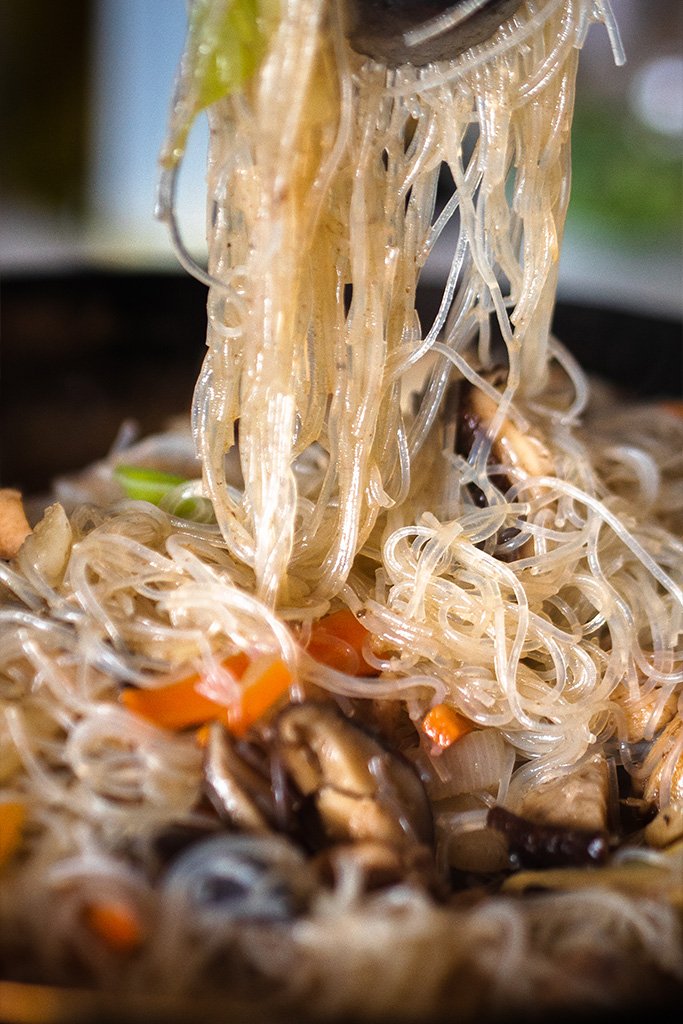 Simmering the chicken
I've noticed that if you leave the chicken skin and bone in, the broth will get extra flavor. When you shred the chicken, just take out the bone and skin. It'll be easy to do so since it will be tender from the simmer.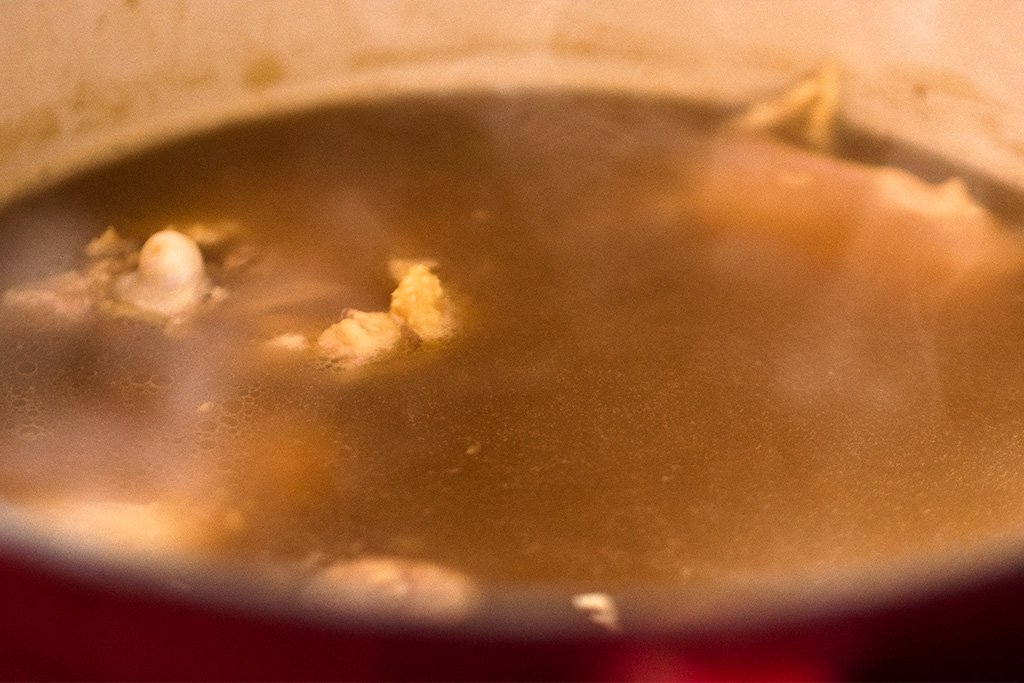 Everyone has their own variations on this recipe, but this is what I like the most. Since instant pot is a new fad, try the recipe out with that as well. Or try it out with a crock pot. I'd recommend putting the noodles towards the end so it doesn't overcook.
I hope you will enjoy this recipe and share it with your friends and family. Impress them with your awesome cooking skills with this easy recipe!
Video Tutorial
Check out this video to help you gain more insight on how to make Chicken Long Rice. Also, subscribe to my YouTube to help support me so I can continue making more of these contents. Mahalo!
Chicken Long Rice
Learn how to make this 'ono Chicken Long Rice! Usually found at a luau as a side dish. It's a savory and simple dish to make for dinner and any special occasion.
Ingredients
32

oz

chicken broth

3

tbsp

shoyu (soy sauce)

2

cloves

minced garlic

2

tbsp

grated ginger

1

tsp

sugar

4

chicken thighs

10.5

oz

bean thread noodles (cellophane noodles)

1/4

cup

chopped green onions (optional)
Instructions
Take off the skin and mince one clove of garlic and two inches of ginger. Slice the green onions and set aside.

Over medium heat, add in the chicken broth, shoyu, sugar, garlic, ginger, and chicken thighs. Bring it to a boil. Then turn the heat down to bring it to a simmer.

Cover the pot and simmer it for 30 minutes.

Meanwhile soak the bean thread in a bowl with water. Make sure the water covers all of the noodles.

Remove the chicken after 30 minutes and begin to shred it. Discard the skin and bones.

Bring the shredded chicken back to the pot and add in the bean thread. Stir it all together and let it cook for another 5 minutes or until the noodles begin to look clear.

Garnish it with green onions. Serve it hot and enjoy!