A great meal to combine all of the leftover ingredients from the fridge and to use any leftover rice.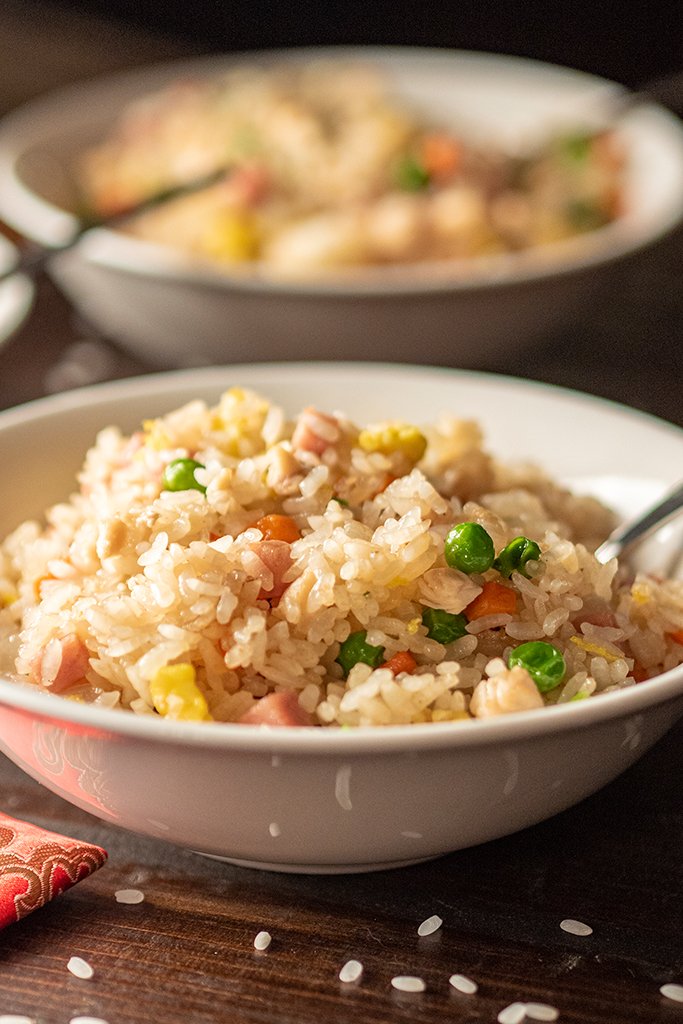 In Hawaii, rice is pretty much a staple. It is served with almost any meal; breakfast, lunch, and dinner. Sometimes there will be leftover rice and what better way to use the rice is making fried rice! The best part is if you need to get rid of some ingredients in the fridge, throw it in the fried rice dish!
What ingredients to use?
Honestly, it really is what you have in the fridge. The combinations of fried rice are usually veggies (to feel like it is healthy), protein, and eggs. If it is being eaten as a hearty meal, then add in more ingredients to fill up the dish. If it is served as a side dish, use minimal ingredients.
The ingredients provided below are JUST suggestions. I used peas, carrots, and onions. If you don't like them, replace them with whatever floats your boat. Broccoli, spinach, cauliflower, eggplants, etc. As for the protein part of the dish, a typical Hawaii dish would sport SPAM, Portuguese sausage, lup cheong, and char siu. Other suggestions to use, if you don't have those meats at your local grocery store, are chicken, beef, and ham.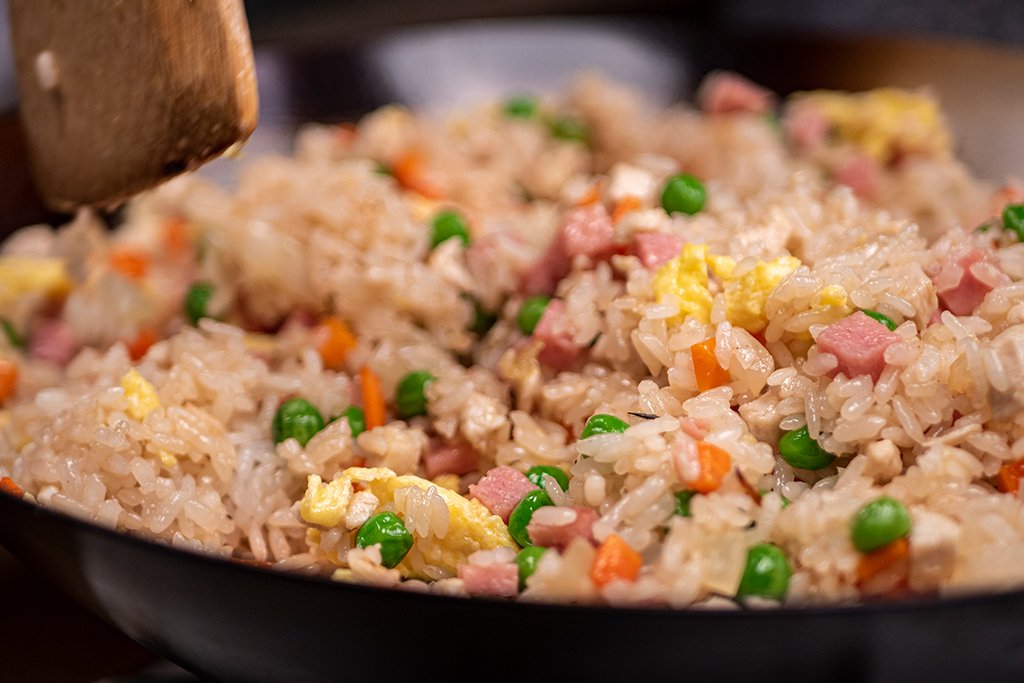 Leftover rice vs. freshly cooked rice
Why do you need to use leftover rice? Using leftover rice, gives the rice the chance to dry out a little. It means the moisture or sticky texture you get from cooked rice dries out. Trust me, I was too impatient one time to wait for the rice to dry out to make fried rice. The result that came from that mess was Fried Glooped Rice. The fried rice was too sticky to fry anything really. When I was trying to stir fry it, the rice was impossible to stir. In a fried rice dish you are looking for the individual grains to easily come off from each other.
Importance to season your wok
If you are using a wok to cook this dish, remember to season and keep your wok properly cleaned. I will admit, as a total average cook, I hardly used the wok since I was starting to build my collection of kitchenware after I got married. It was never mentioned to me when you get a new wok, you should season it. Seasoning a wok is different to seasoning a skillet. I learned how to season a wok thanks to a search on Youtube. If you need help seasoning a wok, I used this video. It's a very informative and easy to follow video on seasoning a wok.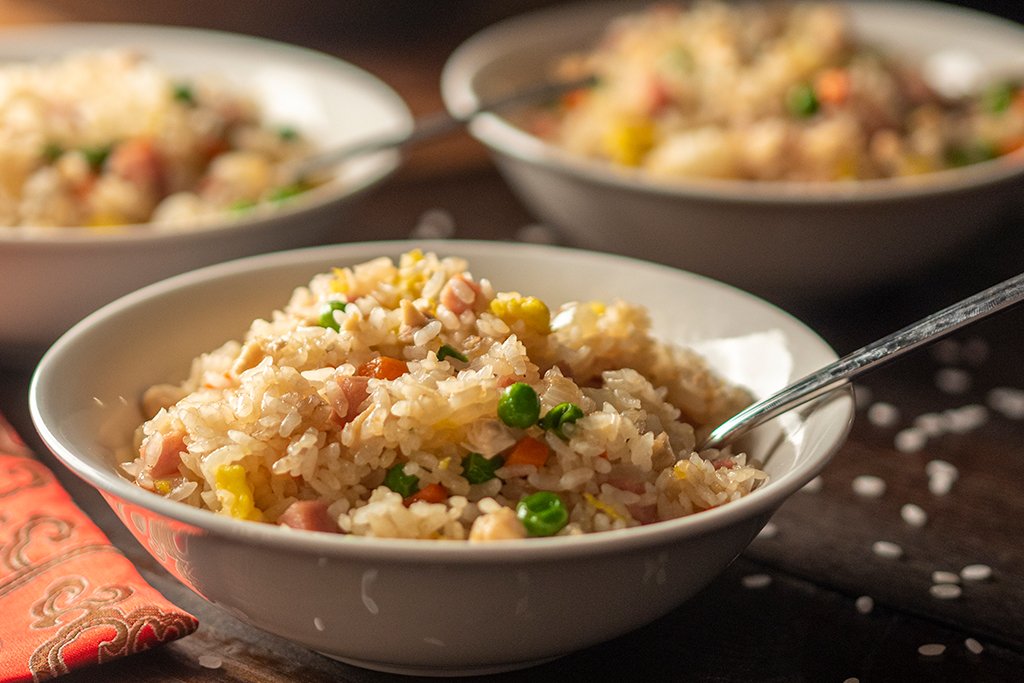 Video Tutorial
Check out this video to help you gain more insight on how to make Squid Luau and how to clean the squid. Also, subscribe to my YouTube to help support me so I can continue making more of these contents. Mahalo!
Local Style Fried Rice
Hawaiian style kind of rice is using any leftover rice and any leftover ingredients from the fridge.
Ingredients
4

cups

leftover rice

1/2

diced onion

1

cooked cubed chicken breast

1/2

can

SPAM

1

cup

cubed carrot

1/4

tsp

white pepper

1/2

tsp

salt

2 1/2

tbsp

oyster sauce

2

tsp

shoyu (soy sauce)

6

tbsp

oil

divided to fry eggs, vegetables, and rice

2

whisked eggs
Other optional meats:
Portuguese sausage

char siu

lup cheong (Chinese sausage)

shrimp

beef

bacon
Instructions
Heat a wok or large frying pan over medium heat. Drizzle in 2 tablespoons of oil and scramble the eggs for 30 seconds or until cooked to your preference. Set the eggs aside on a plate.

Drizzle in 2 tablespoons of oil again to the wok. Fry the toughest vegetable (for this recipe it is the carrots) for a couple of minutes. Then keep frying the next tender vegetable (onions) and fry for another couple of minutes. Lastly, add in the most tender vegetable and cook for a minute. Set aside the cooked vegetables.

*If your meat isn't cooked or you would like to warm it up, fry the meat in the wok for a few minutes or until the meat is cooked.

Drizzle in 2 tablespoons of oil again to the wok. Add in the leftover rice and fry it until all of the rice has been coated in the oil. Add in the oyster sauce, shoyu, white pepper, and salt. Stir fry until well combined.

Add everything back to the wok. Eggs, vegetables, and meat. Stir fry everything until has mixed well. Serve hot as a hearty meal or side dish. Enjoy!